2004 CDI Hagen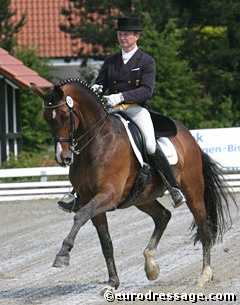 Hubertus Schmidt brought two horses to the show Hagen; Motown was entered in the Professional Riders Championship, Pretender in the Grand Prix.
The bay gelding Pretender is Westfalian registered Playmate xx x Donnersberg offspring owned by Australians Mary Hanna and Justice Ken Marks.
Pretender has been Hanna's Grand Prix horse and was in training briefly at Anky van Grunsven's barn. When Justice Marks got ill, the plan was to sell the horse through Hubertus Schmidt. However, under Schmidt the bay seems to be going really well and the horse has become a new international hope for Mary Hanna who is still competing her number one Grand Prix horse Limbo.
In Hagen, Schmidt scored 68.12% in the Grand Prix (6th place) and 69.525% in the freestyle (5th). For Pretender, the Hagen premises were familour grounds. In 1995, he started his dressage career as a 3-year old, by being broken by Kasselmann's riders and then by being sold over the 1995 P.S.I. auction in Ankum.
Bianca Kasselmann and Miriam Henschke Enjoy Their Own Show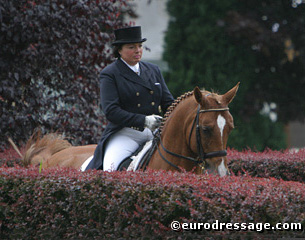 It's one huge thing to be the host and organizer of a show as huge as "Horses and Dreams" in Hagen (the trade fair is almost equally as big as that in Aachen), but it's another to ride in it as well. Bianca Kasselmann, wife to Ullrich Kasselmann, entered two horses in the Professional Dressage Riders Championships and one in the Grand Prix. Riding the 16-year old Danish stallion Elmegardens Fight (Fruhling x Locarno), Bianca finished fifth overall in the Championship.
Fight is a superb chestnut Grand Prix horse who gets better with age. "He was difficult to ride when he was younger," Dr Ulf Möller said, "but now that he's 16 he's finally easier. The way he's going now, he can do the Grand Prix until he's 25."
Elmegardens Fight is bred by Mr. T. Schnoor from Bolderslev, Denmark. Fight has been standing at stud at Blue Hors in Denmark, and made his biggest international show successes under Lars Petersen. Fight is currently owned by Ullrich Kasselmann.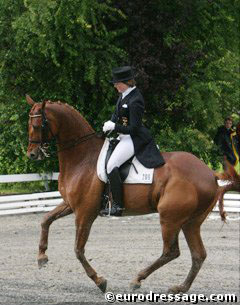 With the KWPN bred gelding Kranak (by Burggraaf), Kasselmann also finished in the top ten of the Professionals' Championships. In the Grand Prix, Bianca rode the former P.S.I. auction horse Le Touquet to a 62.75% score.
Miriam Henschke, who is a chief trainer at Hof Kasselmann besides Bianca, saddled a new Grand Prix horse named Kreol. The 14-year old chestnut gelding of Danish descent scored 65.08% in the Grand Prix and 68.875% in the Kur to Music.
Kreol is not the most beautiful horse with his funky conformation, but has three lovely, elegant gaits and shows beautiful pirouettes.
Miriam Henschke is located in Ankum, Germany, but has been riding for Kasselmann for years. She made big fame aboard the licensed breeding stallion Lord Sinclair, with whom she won the Bundeschampionate.
Text and photo copyrighted Astrid Appels/Eurodressage