2004 CDI Hagen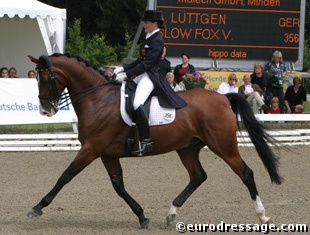 One of the highlight classes at the CDI-YR Hagen was the Young Riders Kur to Music Sunday afternoon July 4, 2004. Winning the class was Anna Katharina Luttgen on the Dutch bred Slow Fox (by Saros xx).
Luttgen's kur featured a good soundtrack to the beat of the horse, but its choreography is quite messy so that the flying changes were again the main obstacle for Luttgen. Luttgen nevertheless scored 71.975% but felt the breeze of second placed Laura Bechtolsheimer in her neck.
Without the doubt the best horse in the Young Riders' class was Bechtolsheimer's Douglas Dorsey, a divine liver chestnut Hanoverian gelding by Donnerhall, who has the nicest movements, a sublime trot, a scopey canter and a decent walk if he's not being stressed into pacing.
Douglas Dorsey is beautifully muscled and has been classically schooled to Grand Prix level by her father Dr. Wilfried Bechtolsheimer and his trained Markus Gribbe.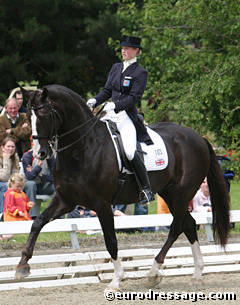 One can say that it's of course easy to ride a confirmed international Grand Prix horse at Young Riders level and have the choice amongst five PSG-GP horses to ride (Winniza, Douglas, Landvogt, Polarion, Placido), but daughter Laura Bechtolsheimer still has to fulfil the task, which isn't that easy.
In the Preliminary test, Laura scored 66.38% (6th), in the team test the pair fot 68.29 (4th). It took until the Kur to Music for Laura and Douglas Dorsey to become a top scoring pair.
The choreography of Bechtolsheimer's freestyle is correct, clean and structured. The music highlights the movement of the horse (which is not a given if you look at the many kurs with upbeat rhythms that go too fast for the horses movements). Douglas Dorsey showed a superb trot tour, but the walk was dangerously close to pacing. In the canter there some minor mistakes, but overall Bechtolsheimer had ridden the best freestyle of day. However, the judges gave her 71.90% which placed her second.
Text and photos copyrighted Astrid Appels/Eurodressage