2004 CDI Hagen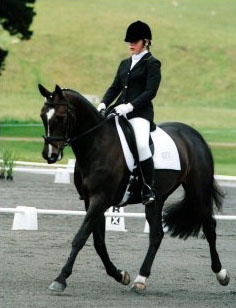 Brigette Learmonth (Kumeu, NZL) has convincingly won the FEI - PSI Childrens World Challenge Final for twelve - fourteen year olds in Hagen Germany. 
The top three placegetters form the preliminary qualifying rounds competed in a Finale, where all three riders rode the same three horses in a derby style competition. Brigette's performance was outstanding as she guided all three horses to the three top scores (71.74%, 70.15%, 68.73%) in the competition. In second place was Giulalana Gasparin-Lucchesi from Brazil (67.77%,66.98%,65.23%) and third Chara Pouli from Greece (64.76%,64.12%,63.33%).
This is Brigette's last year in this International age group class. Back home in New Zealand Brigette is a member of the New Zealand Young Rider Development squad and regularly competes on her trakehner gelding (Lord Lagerfield), pictured, and the five year old grey gelding Grunelius Legacy, owned by her mother Angela. Grunelius Legacy (bred by the Kinnordy Stud in Queensland Australia, by Graf Landau/Nell & true/Winterkonig) won the NZ Young Horse Championship in 2004.