2004 Olympic Games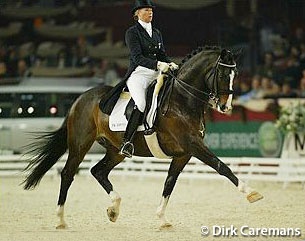 Immediately after the Dutch Dressage Championships in Nijmegen, The Netherlands, Dutch chef d'Equipe Bert Rutten has announced his team for the CHIO Aachen.
The same team will be the Dutch Olympic Dressage team.
Fixed members for his Aachen/Olympic team were already Anky van Grunsven on Gestion Salinero and new Dutch Dressage Champion Edward Gal on Gestion Lingh. Based on her performances last year and a good achievements at the Dutch Championships, Antoinette Falandt has been chosen as third team member.
However, the battle was very tough amongst Dutch Grand Prix riders for that coveted fourth team place. Serious candidates for the spot were Sven Rothenberger, Marlies van Baalen and Imke Schellekens. Bert Rutten finally decided to pick Sven Rothenberger as his fourth Dutch team member.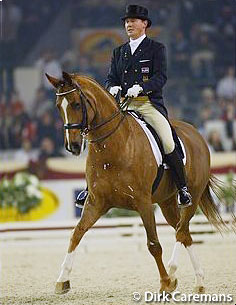 Imke Schellekens shed bitter tears for not being selected for the Olympic Team. The past three weeks, Schellekens has transformed into the Dutch revelation of the year aboard Gestion Lancet, winning the CDI in Rotterdam and placing second in the Special and third in the Kur at the Dutch Dressage Championships. In Nijmegen, Marlies van Baalen and Idocus scored consistent 70% marks, but finished overall in a sixth place.
Chef d'Equipe Bert Rutten chose for Rothenberger based on his previous achievements and very strong, confirmed 70% plus scores aboard Barclay II. "I consider the Schellekens/Lancet combination too young and too inexperienced to take it to Aachen. It's just one year too early," said Rutten. "I want to go to Aachen with the strongest Dutch team possible because there you'll have the same judges as in Athens. If we don't perform at our absolute best in Aachen, we can forget Athens."
Images copyrighted: Dirk Caremans
Related Links
Coverage of the 2004 Olympic Games
Coverage of the 2004 Dutch Dressage Championships