2004 Olympic Games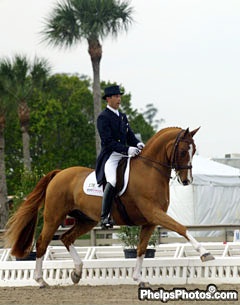 Veteran Olympic Judge Axel Steiner was doing color commentary at the trials today and described Robert Dover's ride on FBW Kennedy as "one of the nicest Grand Prix rides in the United States."
The enthusiastic applause of the knowledgeable crowd indicated they agreed. Their score of 76.292% leads Gunter Seidel on Aragon, who had a score of 72.375%. Seidel was also third on Nikolaus 7 with a score of 71.458%.
Steffan Peters on Floriano was fourth with 71.333%.
"You could not have more experience between horse and rider than Robert and Kennedy, and it showed," said Steiner. Both horse and rider are veteran Olympians, Kennedy competed in Sydney and Dover is a veteran of five Olympic Games. "Other than Robert it's very close and a good ride could change things a lot." he added.
About his ride on Kennedy Dover seemed somewhat awestruck, "You know, every single time I go in with that horse, you know, he never ceases to amaze me. His heart is so amazingly wonderful and his work ethic is fantastic. I'm just so thrilled to be able to ride him . . . I thank Jane Clark for that every day. The highlight was to ride around on him thinking I could breathe and relax because he's taking care of me.
About competing for a spot on another team after being at five Olympics he observed, "does it get any easier, definitely not. It gets easier because of the horses that I'm on. It's an awesome team so it's gotten harder over the years to make it. The competition is fierce."
Seidel remained philosophical about his two mounts and which would be the better horse to potentially go to Athens, "If I had to make the decision right now, I'd probably take Nikolaus. He's a better team horse, he's more confidant at this point than Aragon. Aragon has gotten more and more reliable in the ring in the last year already, if he would be in every class better than Nikolaus then he deserves to do it and I would be happy with that choice. But right now after just one class, I would choose Nikolaus."
But things could indeed change a lot before it's all over and Seidel knows it, 'this could go to the very last day next weekend," he said.
And one person looking forward to tomorrow and next weekend is Steffan Peters, with two good horses, Grandeur and the budding star Floriano, who made a very good impression today. "The chestnut (Floriano) was a little bit of an underdog," said Peters. "The more seasoned horse is Grandeur. If you had asked me before the competition I would have put my money on him but the chestnut is getting a little bit better. It was definitely his best show so far. He's also a very hot horse. I don't know the horse that well I've just had him since October, he still needs a lot of exposure. The neat thing is that everything right through eighth place, except for Robert, the scores are between a 71 and 68, they aren't that far apart. I think the fat lady has arrived but she hasn't sung yet. We'll see!"
About today's performances U.S. Dressage Coach Klaus Balkenhol seemed pleased. Seidel translated for him and said, "he's happy with all the horses especially the ones over 70%. He wants to work more this week because he thinks we can improve the scores. He's really looking at a good team for Athens because there's Brentina, and Relevant is over there. We have a realistic chance of a medal but there's still a long way to go to Athens."
Dover and Ranier finished fifth with 71.042%, Leslie Morse and Kingston were sixth at 70.333%; Tina Konyot and Anna Karenina seventh with 69.667%; and Steffan Peters and Grandeur eighth with 68.833%.
Results
1. Robert Dove - FBW Kennedy - 76.29%
2. Guenter Seide - Aragon - 72.37 %
3. Guenter Seidel - Nikolaus - 71.45 %
4. Steffen Peter - Floriano - 71.33%
5. Robert Dover- Rainier - 71.04%
6. Leslie Morse- Kingston - 70.33%
7. Tina Konyot - Anna Karenina - 69.66%
8. Steffen Peters- Grandeur - 68.83%
9. Carol Plough - Komo - 65.70%
10. Arlene Pag - Claire - 64.62%
11. Jan Brons - Fernando - 64.12%
12. Tami Crawford- Dakota - 64.08 %
13. Cherrie Reibe - G Tudor - 64.04 %
14. Shelly Francis - Jasper - 60.66 %
15. Gwen Blake - Joewell - 60.50%
Image copyrighted: Mary Phelps