2004 World Championships for Young Dressage Horses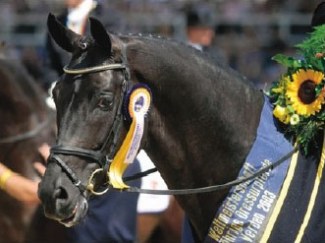 From July 9 to 11, the Lower Saxonian "equine capital" Verden will once again be a center of attraction for horse people and breeding experts. Pairs from 13 nations have announced to compete
at the FEI World Breeding Championships Dressage for Young horses.
One of the main, thrilling questions that will have to be answered: Who will succeed Fürst Heinrich (Holga Finken) and Poetin (Kathrin Meyer zu Strohen) who won the championship title of five- and six-year-old horses last year? The German participants have already been nominated.
The Verden Organizing Committee (VTG) added a new item to the World Championship program: On Friday and Saturday, the stadium will be reserved to the show jumpers. The spectators will have the chance to witness the following competitions on highest level: the Youngster Tour (seven- and eight-year-old horses), the Medium Level Tour and the Advanced Level Tour. The highlight will be an advanced level (***) show jumping competition including jump-off, endowed with 20.000,00 Euro.
On Saturday evening, no entrance fees will be charged, and the program will be a real specialty: show program, rarely seen six bars jumping, Pas de Deux (advanced level dressage freestyle for couples) and brilliant fireworks are the fascinating goodies nobody should miss. These three interesting and thrilling days will also include the qualifications for the Federal Championships of the German Riding Horse (three- and four-year-old horses), the qualification for the Nuremberg Cup Finals (seven- to nine-year-old horses), for the Volkswagen-Cup (amateurs) as well as for the Junior Championships for young riders.