2004 World Championships for Young Dressage Horses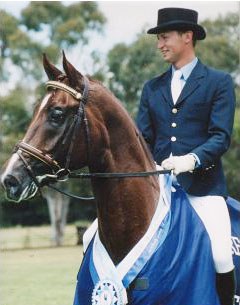 Tor van der Berg and Jaybee Alabaster will be representing Australia at the 2004 World Championships for Young Dressage Horses in Verden, Germany, July 9-11, 2004. Jaybee Alabaster was the 5-year old Australian Young Horse Champion at the 2003 CDI Sydney and Champion of Champions at the 2003 Dressage with the Stars in Melbourne, Australia, last December.
As the competition in Melbourne carries an entry to the World Championships, as well as some sponsorship from International Racehorse Transport to assist with the transport of the horse, Jaybee Alabaster's owners John and Bev (J & B -> Jaybee) Edwards decided to make the trip to Europe and have Alabaster contest with Europe's and America's strongest candidates.
Jaybee Alabaster is a 5-year old Oldenburg stallion by Alabaster out of Gloria (Glorieux x Grundstein I). Bev Edwards purchased the dam Gloria, who was in foal to Alabaster, at Werner Schockemohle's in 1998, so Jaybee Alabaster was born in Australia. The Edwards paired up Alabaster with the young Australian dressage rider Tor van der Berg, who is a farrier and horse breaker by profession, but also successfully competes at FEI level.
Tor van der Berge and Jaybee Alabaster have been in Europe since June 2nd, 2004, and are currently being trained by Dr. Ulf Möller at Hof Kasselmann in Hagen, Germany. "PSI sponsored the competition in Melbourne and very kindly invited Tor and the horse to train with Dr. Ulf Moller for a month before the competition," Bev Edwards said. " We very much appreciate this generous offer and Tor is very keen to learn as much as he can from Dr. Möller."
At 2003 Dressage with the Stars, Jaybee Farm reigned supreme. Not only did Jaybee Alabaster win the 5-year old division, but Jaybee Amelia (by Aachimedes x Domherr) also won the 4-year old division under Nicole Magoffin. In the 6-year old division Jaybee Alfredo (by Aachimedes) finished second and Jaybee Amanda fourth. Try to beat that! When Jaybee Alabaster won the 5-year old division, guest judge rider Arjen Teeuwissen commented, "'I have one problem with this horse. He is in Australia, and not in my stables." He scored the horse 9.5.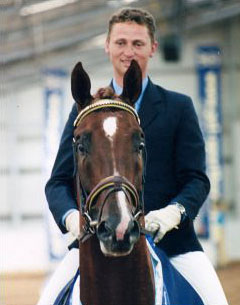 Jaybee Farm is situated in South East Queensland and is run by John and Bev Edwards with the help of a small staff.  "We stand 4 stallions and breed approximately 20 foals a year. Our horses have been very successful for many years now," Bev explained. Jaybee Farm tries to combine the best of all continents. By linking European (primarily German) based stallion to Australian bred mares, they hope to breed modern sport horses with elastic movements and the nerve to go to the top.
"I think that the quality of the Australian horses would surprise you," Bev Edwards said. "We have a basis of excellent thoroughbreds to base our breeding programs on.  The older thoroughbred bloodlines were English/Irish and bred for riding as well as for racing, before the Americans started breeding them solely as "running horses" and got them a bit downhill. New Zealand is similarly situated, although they do specialize more in the staying thoroughbreds, and most of their eventing horses are thoroughbreds, whereas the Australians are starting to look for at least 25% warmblood lines."
Though Jaybee Farm has recently been in the spotlight with its dressage horses, their interest also concerns show jumping. "My son Chris Chugg who has won the Pacific League of the showjumping World Cup for the past 2 years and had previously won it on 3 other occasions," Bev said.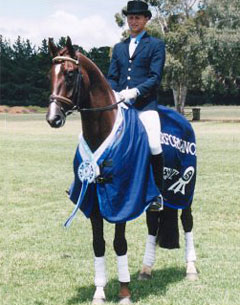 Beverly and John Edwards first got in touch with Werner Schockemohle through their son Chris. "When Chris was representing Australia for the second time on a thoroughbred horse called Mr. Currency at Gothenborg he did a show run in Germany and stayed with Werner.  In 1998 when I called on Werner he remembered Chris as "a very lucky young man with a very good thoroughbred showjumper and a beautiful blonde wife".  Chris sold that particular showjumper and he represented Spain at Barcelona. He still has the beautiful blonde wife.
Chris Chugg and his major sponsor San Miguel Brewery of the Philippines have imported about 10 Belgian and Dutch jumping horses, including the stallion Vivant, by Fuego du Prelet.  Vivant has been named on the Australian Development squad for the WEG in Aachen in 2006.  He and his clients are breeding from these horses as well, and at the recent Sydney CDI*** Chris won the young jumping horse Champion on Vivant and the World Cup round on Bev's horse Ego.  Ego was leading horse in the Pacific League for 2004. 
Tor and Jaybee Alabaster have been preparing for the Championships at P.S.I. in Germany since June 2, 2004, and Alabaster's owner John and Bev will join them in Europe on June 25th. Eurodressage will cross its fingers in Verden for this fascinating pair.
Photo courtesy: Bev Edwards