2004 Olympic Games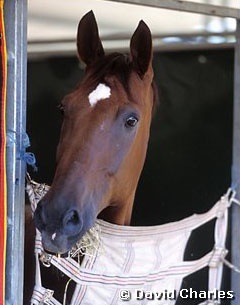 Damocles' sword is no longer hanging above Ulla Salzgeber's head. The only official organ that was able to stop her from qualifying from the Olympic Games after the doping affaire
, has given her a go to compete in the German Olympic Selection Trials.
On June 4, 2004, the case Ulla Salzgeber was discussed by the German Olympic Committee, which deals with all sport disciplines, and the National Antidoping Bureau (NADA) in Berlin, Germany. Both the NADA and the DOK have agreed to allow Ulla Salzgeber to show in the Olympic selection trials and qualify for the German Dressage Team.
Because Salzgeber's horse Rusty tested positive to doping after the 2003 World Cup Finals, Salzgeber was fined by the FEI and suspended from competition for two months by the German Equestrian Federation. This suspension ended in May, but Salzgeber had to wait for the decision of the NOK/NADA to get permission to qualify Rusty for the Olympics. She will most likely compete in Balve and Aachen, the two final legs in the German Olympic road to Athens.
Image copyrighted: David Charles