2004 Bundeschampionate - Qualifiers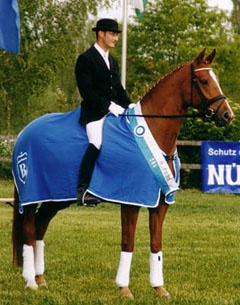 Only three combinations made the cut for the Bundeschampionate at the Qualifier in Remlingen during Memorial Day Weekend. In the 5-year old division Alexandra Klein scored a decent 8.4 aboard Cristobal K.
Klein was the 1999 Bavarian Young Riders Champion on Cacharel. Klein was followed by Ralf Kornprobst who ranked second aboard Lavarone, a liver chestnut Lauries Crusador xx offspring. The duo received 8.2 from the judges.
Kornprobst continued his BuCha success tour in Remlingen by winning the six-year old class. Riding What a Feeling, a Wie Weltmeyer x Borneo descendant, Kronprobst got 8.40. It was the only 6-year old pair that scored higher than 8.0. Kornprobst also qualified this horse for the 2004 World Championships in Verden.
5-year old Dressage Horse BuCha Qualifier
1. Alexandra Klein - Cristobal K - 8.40 Q
2. Ralf Kornprobst - Lavarone 2 - 8.20 Q
3. Uwe Schwanz - Rockbarton 5 - 7.80
4. Michaela Beer - Indira 108 - 7.70
6-year old Dressage Horse BuCha Qualifier
1. Ralf Kornprobst - What a feeling 8 - 8.40 Q
2. Anke Beck - Whitney 227 - 7.60
3. Ute Schüle - Wallentin 4 - 7.30
4. Alix Denkhaus - Count Basie 2 - 7.10
Back to the 2004 Bundeschampionate Index