2004 Bundeschampionate - Qualifiers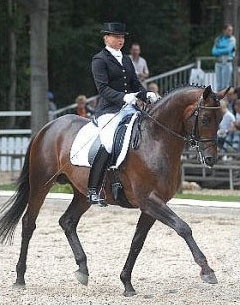 At Hofgut Petersau in Frankenthal, Germany, Fornsbacher and Kaiserkult were the winnings of the two Bundeschampionate Qualifier classes. In the six-year old division Dorothee Schneider
steered her Trakehner Kaiserkult (by Van Deyk x Gajus) to an 8.5 point victory.
At the 2003 Bundeschampionate in Warendorf, Schneider already finished fourth overall with her elegant horse, but is aiming even higher this year. The Holsteiner licensed breeding stallion Tannenhof's Carabas (by Carnaby x Roberto) also qualified for the Bundeschampionate with an 8.2 mark. Carabas was the 2000 Holsteiner Licensing Champion.
In the five-year old division Meike Lang dominated the class aboard the licensed Rhinelander stallion Fornsbacher. The duo scored 8.2 and is eligible to go to Warendorf in September. Fornsbacher is by Fidermark x Fabelhaft and did his 30-day stallion performance test in Marbach in April 2002, finishing eight in dressage with a 7,46 mark. Under Meike Lang, the stallion has matured much. In 2003, the pair finished 8th (8.0) at the Rhinelander Championships.
Jurgen Hofler's Hohenfels is also a stallion from the NRW area. This five year old Hohenstein x Argument offspring did his 30-day test in Munster-Handorf and produced very decent scores (between 8.5-7.0 for dressage). At the BuCha qualifier in Frankenthal, he scored 8.0 under Höfler.
Image copyrighted: Photec
5-year old Dressage Horse BuCha Qualifier
1. Meike Lang - Fornsbacher - 8.2
2. Jurgen Höfler - Hohenfels - 8.0
3. Sascha Schulz - Winona - 8.0
6-year old Dressage Horse BuCha Qualifier
1. Dorothee Schneider - Kaiserkult - 8.5
2. Oliver Luze - Tannenhof's Carabas - 8.2
Back to the 2004 Bundeschampionate Index