2004 World Championships for Young Dressage Horses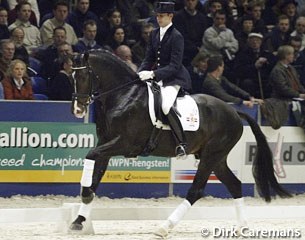 On Thursday May 6, 2004, the first official KWPN/KNHS training session took place on the road to the 2004 World Championships for young dressage horses in Verden, July 9-11, 2004.
At the first selection trial in April, eight 5-year olds and eight 6-years old were invited to "perform" at the official training sessions, through which the actual horses will be selected for the Dutch KWPN team, that will compete at the World Championships.
At the first "training sessions" in Ermelo last week, the judging panel reduced the two groups of eight horses per age class to a frame of six horses per age class. 2003 Pavo Cup Winner Robin Hood (by Jazz) was remarkably withdrawn from the selection procedure. The 2003 Reserve World Champion, Hilltop Rousseau, who was not present at the first selection trial, was invited to compete at the training session and has been submitted into the final frame of six six-year olds
Still in the running to be sent to the 2004 World Championships for Young Dressage Horses are:
5-year olds
Special D (by Métall)
Scandic (by Solos Carex)
Stradivarius (by Krack C)
Spargo (by Krack C)
Garshof's Sajouti (by Clavecimbel)
Sam (byFerro). 
6-year olds
Rambo (by Gribaldi)
Randy-Star (by Lancet)
Decor Just Royal Dancer (by Jazz)
Magic Rodrigo (by Indorado)
Rhodium (by Ferro)
Rousseau (by Ferro).
Image copyrighted: Dirk Caremans