2004 CDN Roosendaal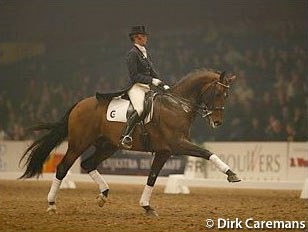 After a one and a half year break because of an injury, Gestion Krack C is back in the show ring. At the national competition in Roosendaal, The Netherlands, the licensed KWPN stallion Krack C won the Grand Prix under Anky van Grunsven.
The pair scored 69.90% and beat Madeleine Vrees on her Contango offspring Madorijke. Krack C's last notable international show ring appearance was at the CDI-W in Mechelen, Belgium in December 2002. Krack C did make one other more "recent" flash appearance, i.e. at the Dutch Dressage Championships in June 2003.
Another Van Grunsven horse making his come back in Roosendaal is the Trakehner stallion Gestion Ictenos. After the 1999 World Championships for Young Dressage Horse and a showing at the Zwolle International Stallion Show, Ictenos disappeared from the scene for more than four years. The dark bay stallion by Sir Chamberlain tried to make a Prix St Georges debut half a year ago, but injured himself at the competition and could not enter the ring.
Ictenos is now fit again and scored 70.75% under his owner Anky van Grunsven. The combination placed second behind Hans Peter Minderhoud on the double Young Horse World Champion Rubels. Happie and Rubbels received 72.00% from the judges and won the class.
Image copyrighted: Dirk Caremans
Prix St Georges - Group 1
1. Judith Scholte - On Top (by Jetset D) - 70.63%
2. Christa Laarakkers - Most Wanted (by Cabochon) - 66.88%
3. Willem Jan Schotte - Goubergh's Ray of Light (by Rohdiamant) - 65.00%
3. Arjen Teeuwissen - Killer (by Edison) - 65.00%
5. Hans Peter Minderhoud - Montgomery (by Zeoliet) - 64.00%
Prix St Georges - Group 2
1. Hans Peter Minderhoud - Rubels (by Rafurstinsels) - 72.00%
2. Anky van Grunsven - Gestion Ictenos (by Sir Chamberlain) - 70.75%
3. Ellen van den Berg - Nadine (by TCN Partout) - 67.75%
4. Mischa Koot - Osteria (by Cabochon) - 67.38%
5. Alex van Silfhout - Olympus (by Havel) - 67.13%
Grand Prix
1. Anky van Grunsven - Krack C (by Flemmingh) - 69.90%
2. Madelijne Vrees - Madorijke (by Contango) - 67.50 %
3. Don Cuppen - Falco C (by Ufarno) - 58.65%
Grand Prix Special
1. Roger Schulkens - Monarch (by Damocles) - 62.20%
2. Tyrza van Iperen - Tolstoi (by Tannenberg) - 60.50%
3. Harm Dijkstra - Deltamils Johnny Cash (by Eusebio) - 60.30%
Related Link
Winning Grand Prix Debut for Krack C