2004 CDI Sydney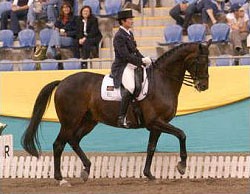 Queenslander Ricky MacMillan, riding her 15-year-old warmblood gelding Crisp, did all that was asked of her in her battle for a place at the Athens Games
winning the International Grand Prix Kur competition at the Sydney International Equestrian Centre here Saturday.
Her victory with a percentage of 75.275, meant she had a clean sweep of the Grand Prix events at the Sydney CDI*** -- the Intermediate II, the Grand Prix, the Grand Prix Kur. Her Olympic fate now depends on performances by other international competitors this weekend.
Final world rankings for the 2003/04 season will be known on Monday, 3 May, which will in turn decide the final three available Athens Olympic spots. The rankings are dependant on results from both the Sydney CDI*** International Grand Prix event and competitions being held concurrently in Europe.
MacMillan's performance delighted the large and appreciative crowd, with creative choreography and complementary music culminating in a technically sound performance.
"The crowd really helped me tonight, and helped me achieve such an amazing score. I'm amazed by that score," she said later. She beat Victorian Mary Hanna and Limbo, who scored 73.450 percentage, and Heath Ryan on Greenoaks Dundee with 68.425.
Hanna has not given up on the chance of Olympic representation. " It is going to be difficult but it is not impossible. There may be a few countries which drop out opening places," she said.
Olympic Puzzle Still Not Solved
Australia's hopes of having a competitor in the dressage competition at the Athens Olympic Games will hinge on the final calculations of the world ranking, to be released by the international federation -- the FEI -- tomorrow morning. Australia currently does not have a rider qualified, and there are only three places still up for grabs.
After missing out on team selection by one per cent in the European championships last August, Australian riders now only have the chance of individual selection for the Games. Before this weekend event, Australia's Ricky MacMillan was in fourth place behind riders from Belarus, Finland and France.
Tomorrow morning the FEI will calculate the percentages on how the riders performed this weekend and review the top three contenders for the remaining places at the Olympics which will be announced on May 15.
"The scores the girls achieved last night were really good," said Chairman of the Australian Dressage Committee, Deborah MacNicol. "We definitely have high hopes. "It would be a huge disappointment if we don't go."
If Australia come out in the top three and qualify for the Olympics, there will be an internal selection to decide who will compete for Australia in Athens.
"The main competition will be between Ricky MacMillan and Mary Hanna, but at the moment we are just focussed on getting in!"
The final decision on who would represent Australia will not be announced until late June.