Vechta Auction News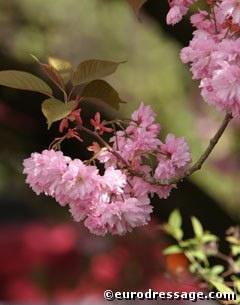 Read all about Astrid Appels' first experience at the Oldenburg elite auction in Vechta, Germany. Here is an on the road, on the scene report for Eurodressage.
343 Kilometers to Vechta
I have a confession to make. Although I have been covering the elite auctions in Vechta for years, I have actually never have been to one. OK, I did attend a Munster auction and have tried out horses there, but I can't deny that the auctions in Vechta (and Verden) speak much more to my imagination of grandeur, top quality and a great atmosphere, and are, therefore, much more appealing. This year the time has been ripe for many new experiences. I attended the Oldenburg Stallion Licensing, went touring through Germany visiting various stallion stations, revisited the Belgian competitions and was crazy enough to fly to Florida for horse shows twice in three weeks. So why not add the Vechta Spring Elite auction to this programme?
I'm a driver's-licence-late-bloomer. I only got it last October (2003) and have driven to Germany once for the P.S.I Auction in December. Though I have played German G.P.S for friends who went horse shopping in Germany on many occasions, my trip to the Vechta Elite auction was my second 'major' drive into Germany on my own. It was Friday today, so that meant weekday rush-day traffic and, boy, let me tell you that German drivers are pushy! They get so close to your fender indicating to move your ass in the other lane right away, or otherwise they'll run over you. It takes exactly 343 kilometers from my home in Mol, Belgium to the parking of the auction centre in Vechta, Germany. That means a 3-hour drive.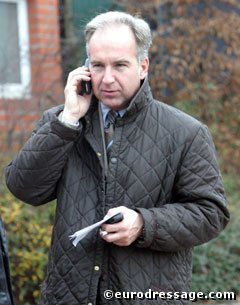 I parked right behind the barn, got my camera out and headed towards the office where I saw my first familiar face, Thomas Rhinow. He is just fantastic. Rhinow is the dressage spokesman at the auction and will help any client with questions about the dressage horses in the collection. Rhinow is himself a former auction rider, but exchanged his boots for a computer and now does desk work and counseling at the Vechta center. Don't be fooled, however, on his desk there is a picture of him riding Jaye Cherry's Donnegal on his most recent visit to Los Angeles with Johannes Westendarp. The horse (riding) virus can not be destroyed!!!
Yippie yeay, Holly Simensen was there too (I knew that because she invited me over once again, the sweet heart) and she brought along two new American faces; Cherise Gasper from Lexington, KY, who missed her very first Rolex Kentucky Event this weekend in more than twenty years by being here at the auction, and her friend Lotte Osol from Vermont. Both ladies are shopping for a dressage prospect. Visiting the auction of course coincides with a stop in the most beautiful tack store in Europe, Reitsport Schockemohle in Muhlen, Germany. I restrained myself from buying anything, except a nice Trakehner stall plate for my friend Petra who is horse-sitting my babies at home. Lotte and Cherise both bought Konigs boots.
Holly made a quick stop at Ludwig Kathmann's, where she keeps two broodmares (European Mare Champion Esperanza (Feiner Stern x Figaro) and a Painters Row xx mare), one foal (by Don Romantic that will be auctioned tomorrow) and yearling out of the Painters Row mare.
Gala Presentation of the Collection
On Friday, the day before the auction a so-called gala presentation of the collection is held. Although the gala part of the presentation was totally not obvious, it was a very interesting one nevertheless. The 2004 Spring Elite collection of Oldenburg sport horses is one of outstanding quality. There is a small lot of exceptional young dressage horses, including 2003 Rastede Reserve Champion Uniqua, Germany's most successful 5-year old Daddy Cool, the very talented show horse Destination, the spectacularly moving Sonderburg and the delightful Deng Xiaoping.
Furthermore the collection includes a large section of very good riding horses and only a very small percentage of mediocre, below quality horses. Veteran auction rider Johannes Westendarp was fortunate to present two out of those five breath taking horses. Westendarp rode Sonderburg and Destination.
"Destination (Don Gregory x Rubinstein) is my favourite, she would suit my needs the most, because she's tall and is an outstanding show horse," Johannes commented. "She needs some time, but she has three outstanding gaits and can really show herself."
Westendarp, who turns 40 in 2005, has been riding for the Vechta auction team since he was 18. "When I was 17, my father and I went to the auction to buy a horse. The first one I tried out bucked me off right away. Uwe Heckmann was standing at the side and asked me if I wanted to be in the auction team. I hadn't graduated from school yet, so when I turned 18, I asked him I could still become an auction rider and Uwe let me in the team right away," Westendarp reminisced.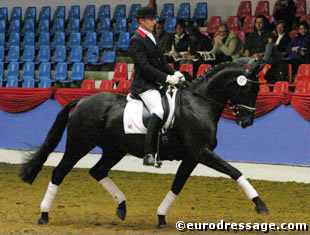 Sonderburg, a pitch black Sandro Hit x Feiner Stern x Volkorn xx mare is a fantastic horse. Three powerful gaits with the trot as highlight is one of the auction horses which has roused the interest of many buyers. One among them is American Elizabeth Lewis-Page, owned of such stallions as Dollmann and Worldly. Marta Kaufmann and Jaye Cherry have also expressed interest in the black star, as well as several other international dressage riders who be calling on the phone tomorrow to bid on this Sandro Hit star.
If one were to predict the price highlight of the 2004 spring elite auction, it would be a toss up between Uniqua and Daddy Cool.
The chestnut mare Unique is by De Niro out of elite mare Unika (Figaro x Harnisch/T) who became 2003 Oldenburg Reserve mare champion at Rastede.
Presented by auction rider Kira Wulferding, Uniqua danced through the ring with lightness, electricity and relaxation. Though three-year old, the divine mare looked experienced, calm and self assured of her potential and ability. She showed three superb gaits and a general light footedness that flattered her exceptionally well.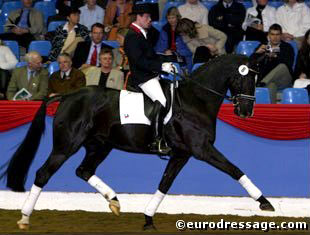 Other possible highlight could be Daddy Cool. The 5-year old black gelding by Don Primero x Prinz Gaylord x Praefectus xx is an experienced show horse with already almost thirty victories on his list of achievements.
Heiko Klausing presented Daddy Cool to the song Daddy Cool. The gelding showed nice confirmed traversal movements with much scope and reach. Of course Daddy Cool had three very nice basic gaits, especially his trot work was impressive.
The collection raised to the expectations of an elite auction and it's a fact that tomorrow's bidding will be an adrenaline rush all the way.
Vechta Celebrates its 60th Elite Auction with Big Party
Right after the collection presentation, a big party took place in the tent next to the auction center. Apparantly more people travelled to Vechta for this party than to view the horses. Wilhelm Weerda and Uwe Heckmann gave a short speech to celebrate the 60th Elite Auction of Oldenburg sport horses in Vechta.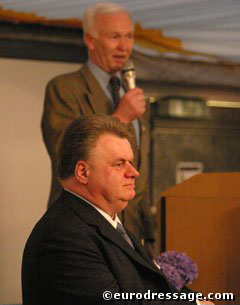 Heckmann praised the improving quality of the horses, thanked the breeders and also congratulated photographer Werner Ernst for being the official photographer for the catalog and the event for more than twenty years. Werner Ernst was kind enough to make a selection of historic pictures of the auction, which were projected on a big screen in the tent. It was funny to see a 25 year old, slim, Uwe Heckmann leading the auction, or the mare Fiorella Queen being the record price highlight decades ago.
A buffet and bar quenched our hunger and thirst. I sat at the American table with Holly, Cherise, Lotte and Marta Kaufmann's party which included Jaye Cherry, Gudrun, Midge and ..... Johannes and his delightful wife Ines joined us while we woolfed down the food.
By 10 PM we left the party to prepare ourselves for a heavy duty bidding day tomorrow.
Slow Start to an Exciting Day
Big day today. We kicked off to an easy start by having break fast together round 8 A.M. We discussed horses and Cherise provided some revealing insights by talking about how the thoroughbred industry vetted horses and what advanced techniques they use most people in Europe haven't even heard of. Holly wanted to show us a couple of her yearlings which she kept at Olivier Kotschofsky's in a town near Vechta. She had a De Niro, a Wolkentanz II and a Rhodes Scholar yearling running around, as well as the most delightful Stedinger colt out of a Don Gregory x Figaro dam. I was especially fascinated by her colt which was all legs, beautiful cresty neck, lovely face, and a very nice shoulder.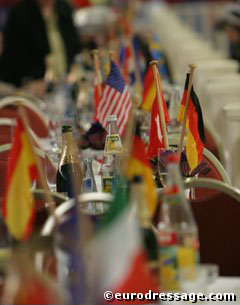 We went back to the auction center round 10.30 am as I was eager to check out PSI's Miriam Henschke try out some of the horses. Unfortunately I was too late, so I lingered about walking through the stalls and checking out the people who arrived at the auction.
The people watching in the lobby of the Vechta centre was very interesting; because horse celebrities such as Holga Finken, Ulf Möller (and wife Eva Nolden), Ulli and Bianca Kasselmann, Herr Sprehe, Ari Gordijn, horse dealer Bernard Schaeffer, British couple Tony and Sarah Pidgley -- all the big buyers -- were there.
At noon another presentation of the collection started. This time it included the foals, who had arrived earlier today, and the horses that weren't shown yesterday. The presentation took until 2.45 PM, with just enough time left to take a quick bite before the real action started.
Adrenaline Rising
There was a different atmosphere to be sensed in the building. The Vechta personal was more nervous, people were bustling about trying to kill time before the auction, it was a pleasant nervous atmosphere in which adrenaline was rising for the big battle of the buyers.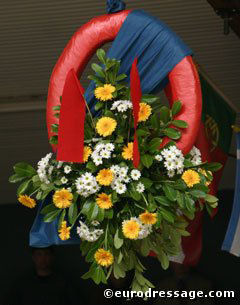 My friend Marne Martin and her husband Michael Tucker arrived round 2 PM. The arena had undergone an extreme makeover; it was smaller, with VIP tables on four sides, there were shavings on the ground and flowers decorated the whole place, endowing the arena with a typical happy spring atmosphere.
When everyone was nested on their seats, champagne bottles popped open and sleeves rolled up, the auction was ready to kick off. Horse number one to enter the ring was Don Olympico, a De Niro x Plaisir d'Amour, owned by Belgian J. Desmedt and sold for 15,000 euro to the owner, because he was not pleased with the low price.
Was this a sign that this Vechta Elite spring auction would follow the trend of all other auctions, namely being a disappointing low priced one because of current bad economy? Horse number two Delphi (De Niro x Prince Tatch xx) sold for 10,000 euro, ouch! Number three, the wonderful little star Deng Xiaoping (De Niro x Wertschatz) sold for 17,500 euro to Great Britain; still a very low price for the quality this little power mover had to offer. I knew however that the tide was to turn with horse number four, Uniqua.
Unique Uniqua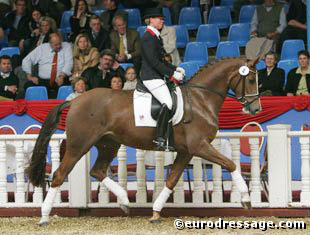 The chestnut sweet heart Uniqua was bound to become one of the price highlights of the auction. Carrying catalog number four, Uniqua was the first "big shot" horse to go that would pump a rush of adrenaline through your veins.
There were several people interested in this mare, including Adri Gordijn of De Ijzeren Man, but it became soon apparant that American Marta Kauffman was headstrong to take this horse home to California. The price rocketed up to over 50,000 euro and then steadily climbed up to 100,000 euro, when the hammer knocked down.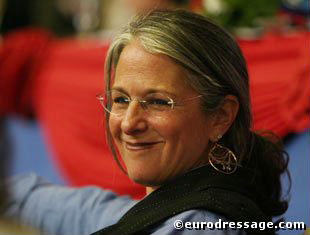 Kauffman, her rider and friend Jaye Cherry, compagnion Ann Cutshall <SP?> and actually the whole Californian table were in tears over the purchase of this chestnut treasure. Even Evelyn Vollstedt, a woman who is perfect at staying stoic all the time, had difficulties suppressing her emotions of happiness and true joy.
Uniqua was the 2003 Reserve Champion at the Rastede Mare Show and had already shown her top quality in hand. Under saddle, ridden by Kira Wulferding, the mare was even more stunning. Such self carriage, elegance, electricity and light footedness is very rare to see combined in a horse, but Uniqua has it all.
Marta Kauffman has become a regular visitor in Vechta. She already purchased the most expensive pony ever, the chestnut licensed stallion Chardonnay (by Constantin) for 60,000 euro, and is also owner of Donnegal, previously known as Derbywette (Donnerschwee x Grundstein I) who she bought for 200,000 Deutsch Mark in 2001. Jaye Cherry has been competing Donnegal in the California show circuit, while Kaufmann regularly shows her own Rubideaux with success.
New York Destination for Daddy Cool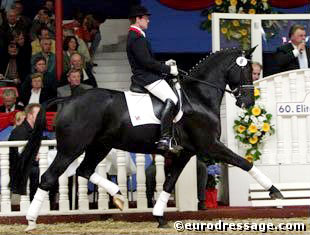 If you thought Uniqua produced an exciting bidding round, than you were badly mistaken. The possession rush over the coolest horse in the auction, Daddy Cool, gave you goose bumps all over. Being five years old, Daddy Cool was the most experienced and matured young horse in the collection. The black Don Primero x Prinz Gaylord gelding showed a complete package of gaits: ground covering walk, superb elastic trot and a scopy canter.
The bidding on Daddy Cool quickly surpassed Uniqua's price and kept on going and going like the Energizer Bunny. It was a tough duel between Adri Gordijn of the Ijzeren Man and an American bidder on the phone with Dr Evelyn Vollstedt, who sat at our table. When the bidding stopped just over 200,000 euro, British duo Tony and Sarah Pidgley materialized in the vechta ring and picked up the thread by raising the prize to 260,000 euro. The American buyer climbed up to 261,000 euro and Tony Pidgley, who was eager to go higher, took a look at his wife, asking for her permission, but he got a strict no-nod from Sarah and as we all no, when a girl says no, it's no! So Tony said "no"too to Uwe Heckmann, who came over to the Pidgley's table to convince them. Daddy Cool was sold to Diana Rose of North Salem, New York, for 261,000 euro, the third highest price ever achieved at a Vechta auction.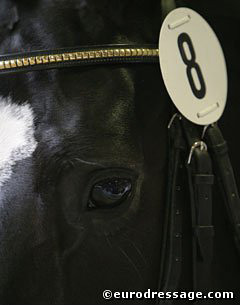 "I am so happy for Diana," American Oldenburg society representative Holly Simensen said. "They are the nicest people and Daddy Cool is the perfect horse for Diana. He's super quality and will try his guts out to please." Diana Rose is an amateur dressage rider (with the ambition of a pro) who is based in New York and trained by Canadian Ashley Holzer.
"Diana sat next to her husband when she was bidding. They are a great couple and try to make a better world. They have won prizes for their efforts and input in humanitarian programmes world wide," Holly explained. Simensen had been communicating with Diana over the phone for days prior to and during the event, and set up the phone connection during the auction. "It's so thrilling for Diana. She has been 'giving' all her life, and now she finally gets something she really likes," Holly added.
Sonderburg, Sweetest Mare with a Stallion Attitude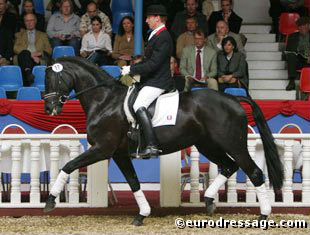 Third most expensive horse at the auction was the pitch black mare Sonderburg. Sired by Sandro Hit out of a Feiner Stern x Volkorn xx dam, Sonderburg was an exceptional horse. Powerful gaits, great fighter mentality, this was a horse that would sell for a million at the P.S.I auction, but for 130,000 euro here in Vechta.
P.S.I. (Performance Sales International - Ullrich Kasselmann) tried buying this black, but wouldn't go all the way for her. They stopped bidding somewhere after 50,000 euro while a French group took up the duel with American Elizabeth Page-Lewis.
While Page had to check with her husband if she was allowed to go higher, the French people were very determined in getting this black mare. It was quickly obvious that they would be the winners of the bidding process and for 130,000 euro they got the horse.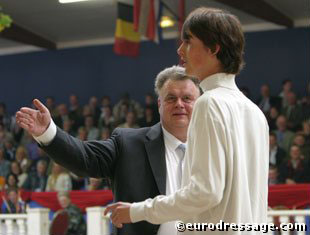 What was less obvious was that the new owner of this star was a 17-year old junior rider from Bretagne, France. His father Xavier Marie paid for the horse, but the 17-year old Ferdinand will be Sonderburg's newest partner.
After the auction breeder and 'previous' owners Hubert Ratermann and his wife were patting the horse and serving champagne to everyone who passed their stall. Frau Ratermann was kissing Sonderburg and saying how much she loved her baby.
Ratermann operates a breeding farm with 20 broodmares and 80 horses in total in Alfhausen, Germany, and has sold many horses before to Stefan van Ingelgem in Belgium, including the Grand Prix horse Remy Martin who will compete at young riders level tomorrow at a national show in Belgium. You meet the most interesting people in the weirdest places! 
Holly's High Priced Foal Espagnola
In order to create some variety in the collection, the Oldenburg Verband decided to add 22 foals to the collection of dressage and show jumping prospects. One of those 22 was Holly Simensen's Espagnola, an eyecatcher filly by Danish Licensing Champion Don Romantic out of Holly's prize mare Esperanza (Feiner Stern x Figaro).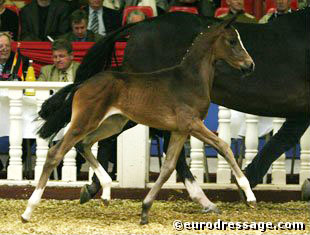 Because Holly keeps 20-something foals, yearlings and broodmares in Germany, once in a while one of them has to be sold. But that's not an easy job. Holly can be described as a horsaholic, she loves horses, breathes horses and can not live without them. Her passion for bloodlines and breeding does not remain theory in her head, she actually buys foals and mares of absolute top quality. Therefore, it broke her heart to sell on of her babies, but bills have to be paid and Espagnola was the perfect pawn in her strategy to accomplish that.
The foal collection at the auction was of a very good quality, but when the first ten were auctioned off, Holly started to chew her nails.. "The prices are so long, a couple of years ago people were still paying up to 30,000 euro," Holly muttered. Indeed, the first couple of foals did sell for an average of 5,000 euro but we kept on encouraging for Holly. "Your foal will do much better. She's the best of the collection." And that was the truth. Though Espagnola was a bit immature and looked somewhat thin, she was all legs and moved like no other.. Loose, engaged, elegant.. Espagnolia seemed to be a real Flamenco dancer diva.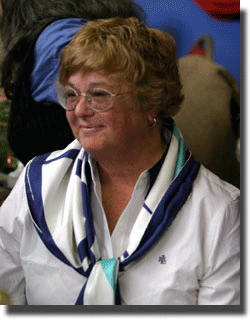 Three foals sold for 10,000 euro. Cha Cha Cha (Chico's Boy x Stalon x Tannhauser) was sold for 11,500 euro to the U.S., Flaminio (Florencio x Freiherr x Tiro) sold to the Pidgley's in Great Britain for 10,000 euro and the black colt Kingdom (King Arthur/T x Justinian xx x Weltmeister) also went to the U.S for 10,000 euro.
We were all sitting on the edge of our seat, when Espagnola danced into the arena like a little princess. No nickering, she just trotted onwards and showed off her talents. In no time, the bidding went to 10,000 euro but then it seemed to stop. We wouldn't allow that. With every new bid our table and Marta Kauffman's team started to whistle, cheer and clap and soon enough we brought the bidding up to 20,000 euro. Was 30,000 € reachable? We got louder and louder, started to whistle or gasp in excitement. It was a tough duel between a distinguished man sitting behind the P.S.I bench and another man in the stands behind us.
Before the auction, many people had already come up to Holly saying that she had the best foal and Uwe Heckmann agreed on that. The words Uwe used to describe this filly were simply poetic. He put in an extra effort to get the highest price for this foal and eventually he knocked down his hammer at 23,000 euro. Holly was in tears and we went totally crazy, because we couldn't have wished for a better price.
Espagnola has been sold to a breeder from a small town with the exotic name Bad Rappenau in Germany.
How Champagne Turns into Red Wine
What are the benefits of having a table during the auction: free water, free cookies, excellent view on the horses, excellent view on Uwe Heckmann, you're in the middle of all the excitement and more importantly, free champagne -- well not exactly free as you pay for the table of course. Nevertheless it's fun to sit at a table and it's just a great experience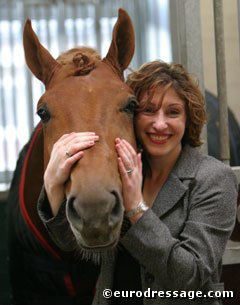 However, watch out for the dangers of "the table." The free champagne flows too easily and when you are a bit light in the head you start to lust for being a horse. Your hands move more freely and you feel like participating in the auction by raising your hand, just for fun.
But what happens when you raise your hand at the wrong moment? That's what happened with my dear friend Marne Martin.. She can tell you everything about how champagne turns into red whine. At the wrong moment, she felt like having some action and put her hand in the ear. Uwe Heckmann, who sometimes can be a sly predator, knew he had found a prey and knocked down the hammer before you were even able to blink. Marne just bought a horse, named Roter Bordeaux (red bordeaux). So let me tell you, that's how champagne turns into red wine. It's no alchemy!
Roter Bordeaux is a three-year old Oldenburg stallion by Rubinstein x Argentinus and has three lovely gaits. He has a great temperament, is calm and relaxed, nothing can bite him, and he is also excellent over fences (as we witnessed him jumping during the 2003 Oldenburg stallion licensing). So Marne's maiden voyage to the Vechta Elite Auction has been full of fortunate surprizes.
Marne does not regret purchasing Roter Bordeaux. He's a very versatile horse that she got for a cheap cheap price. "I'm going to have him gelded right away, because he's getting too big and cresty, and then I will leave him in training with Johannes Westendarp for a couple of months," Marne said. Hopefully, in half a year Roter Bordeaux will be called Chateau Margaux.
Destination P.S.I.
The last horse in the auction was catalog number 45, Destination, a beautiful bay mare with a great attitude. Her mind is mellow, relaxed but with enough personality and character to be a great show horse. Her movements are strong, rhythmical. She's not the typical modern sport horse brimming with elasticity, electricity and refinement, but she is a very powerful mover, groundcovering with much cadence.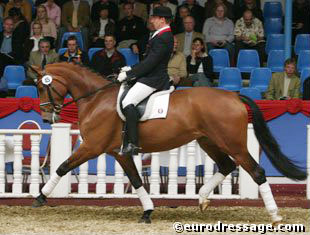 Destination's rider Johannes Westendarp said that this mare was his personal favourite in the auction and Ines added that she reminded him of the top selling auction mare Weltspitze (Weltmeyer x Mozart), with whom Johannes won the Bundeschampionate.
Destination (Don Gregory x Rubinstein x Welt As) was destined to be a price highlight in the collection. The bidding went all the way up to 70,000 euro before the hammer struck. Her new owner, Ullrich Kasselmann of Performance Sales International. That means that, most likely, we will be seeing this international calibre horse back in the auction ring in December 2004 at the P.S.I. auction in Ankum.
While P.S.I. made an excellent purchase in Destination, their acquisition of the chestnut gelding Logarithmus seemed not very logical. The Londonderry x Weltmeyer x Kant offspring was a very nice riding horse for an amateur, but did not show P.S.I. top class potential, at least not at the auction. Maybe the P.S.I augurs had foretold them to go for this one? Logarithmus sold for 21,000 euro to Ulli Kasselmann.
Third P.S.I purchase was the black colt Weisse Wolke, a Laurentio x Caprimond x Vollkorn xx foal. This interestingly bred colt was sold for 5,000 euro.
Blumenmädchen Alexa Westendarp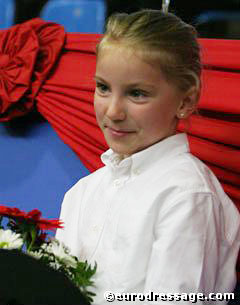 hile Marne had her first purchase at the Vechta Elite auction in her life, Alexa Westendarp also made her debut at the auction. It was Alexa's first time "working" for the Vechta auction team as flower girl. Alexa is the 6-year old daughter of auction team rider Johannes Westendarp and his lovely wife Ines Westendarp.
"She was very nervous the day before when she was picking out what to wear for the auction," Ines confessed. Alexa looked wonderful wearing her hair in a nice bun with a red ribbon around it, a white blouse and a cute tweed checkered skirt.
Every time a horse gets sold, the buyer has to sign an "invoice" to confirm the purchase and receives a beautiful bouquet of flowers in the Oldenburg colors (red, white, blue), together with a framed pictures of the horse, a fruit bowl, and two glasses of champagne. Walking in between two Vechta hostesses, Alexa had to hand the bouquet to the buyer each time. She did her job like a true professional.
Unwinding at Gut Füchtel
What to do the morning after an auction? There is no pill for that. You miss the adrenaline, the people meeting, the wonderful horses. So we decided to take a look at the future. Clemens and Andrea von Merveldt's Gut Füchtel is only a few steps away from the hotel and we wanted to check out their foals and youngstock.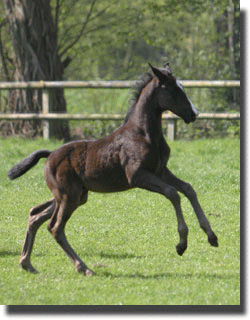 The Von Merveldt's live on a wonderful historic farm which is called a "Wasserburg," a water castle or moat. Around 1200, through consolidation of several farming communities, the Füchtelmann farm of the Graf von Vechta (Count of Vechta) was established. In 1252 it went over to the Bishop of Münster, later it was traded to the Graf (Count) von Oldenburg-Neubruchhausen and in 1331 it was turned over to the Elmendorff family in Elmendorf. This family founded Gut Füchtel and built a castle. In 1908 the castle came in hands of Graf von Merveldt and Clemens and Andrea have made Gut Füchtel into a thriving horse and livestock farm.
This year Clemens and Andrea expected foals by such sires as Rosario, Rubioso N, Florencio, Depardieau. It was a beautiful day today, sunny and spring was in the air. Marne, her husband Michael and I witnessed how the Von Merveldt's let out their beautiful foals in the lush fields, before we headed back home to Holland and Belgium.
The foals in the pictures are by Stedinger (black colt), Florencio (chestnut filly) and Depardieau (greyish colt).
This first black colt is a Stedinger colt owned by Holly Simensen.