2004 Olympic Games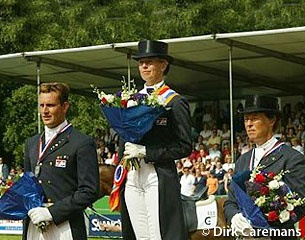 The favourites for a team place in the Dutch Olympic Dressage Team will not be competing at the first selection trial to be held this weekend in Ermelo.
Anky van Grunsven, Arjen Teeuwissen and Ellen Bontje have all scratched their mounts for this weekend's competition.
Due to the passing of Anky's father Wim van Grunsven last week, Anky was unable to prepare her two mounts Salinero and Krack C well enough for the trial. Arjen Teeuwissen also scratched because his 16-year old Gestion Goliath injured himself in his stall this week. Goliath got stuck against the wall after rolling in his box and bruised himself quite severely. He was transported to the new vet clinic of Dr. Marks Suls in Germany, where Goliath will stay for two weeks to enable to best recovery possible.
"Arjen is very upset," partner Frank Garritsen said, "he was so happy that finally things were going well again, look at his performance at Indoor Brabant. Now he has to deal with this set back. We hoped to put in a good battle for that team place, but now we have to deal with this problem first."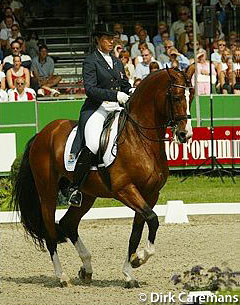 Third important withdrawal for the Dutch Olympic Selection Trial is Ellen Bontje with her good old Silvano N. Bontje, who won team silver at the 2000 Sydney Olympics, reported that Silvano has a minor injury.
In principle, all combinations who want to qualify for a team place have to be present at the first selection trial, but the actual 4 team riders will only be selected after several trials in The Netherlands and abroad. Dutch Chef d'Euipe Bert Rutten regretted the absence of Holland's three top horses but added that "I won't ban those horses out of the entire selection process. We'll see how they perform in the next trial and then go from there."
Gestion Silvano N (Silvester x Latino) is currently 19-years old and will be the oldest horse contesting for a team place. Ellen Bontje previously stated that she will not force her horse to compete. It the time is ripe for him to retire, she will chose for her horse's well being instead of going to another Olympics.
Images copyrighted: Dirk Caremans - no reproduction allowed