Danish Warmblood Breeding News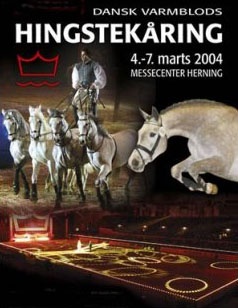 The stallion licensing in Herning is the biggest of its kind in Europe. Over the weekend 36,500 visitors found their way to the 8 exhibition halls that were filled with everything that horse enthusiasts can dream of.
The first stallion licensing in Herning took place in 1980 so this year Danish Warmblood had their 25th anniversary in Herning.
The main attraction is the licensing of the stallions, but also the championships for 5 year old dressage and jumping horses along with two spectacular gala evening shows and two Monty Roberts' performances attracted many visitors. The crowds were also lured by a large number of booths showing the latest trends on the market in the equine business - stables, horse trailers, four wheel drivers, equine art, feeding, rider's clothing and everything a tack shop can offer. Besudes the licensing, the stallions competitions in dressage and jumping of the highest level as well as the yearly auction where people gather to witness the sales, are a true magnet to the audience
Together with a couple of journalists from Belgium and the Netherlands I spoke to the Licensing Commission at the press conference and they said they were absolutely thrilled with the huge show and the friendly atmosphere.
They were already aware of the high quality of Danish dressage horses compared to the small number of Danish Warmblood foals born each year (approx. 2,500), but they were amazed with the high standards of the young jumping stallions.
The Danish rider Fie C. Skarsoe who rides for German Gestüt Wiesenhof had brought along two of her Trakehner mounts, Monteverdi and Münchhausen and what a success they had in Herning. Fie always competes with full concentration and still succeeds to win everyone's heart with her charm. She won each class she competed in and her last victory in Herning was aboard the fabulous Münchhausen who made his debut in the Grand Prix. And what a debut for this young and talented stallion who presently holds the second highest German breeding index for dressage stallions! He won both the Intermediaire II and Grand Prix freestyle with 73.6% and 75.6%.
Blue Hors Leredo, 2004 Danish Warmblood Licensing Champion
What really attracts the attention of the audience in Herning each year is the premium ring of 3 year old stallions and the question which colt will be this year's champion. Two of the dressage premiums shone throughout the weekend : Virkelyst Leredo and Rosentanz. They are both highly moderne, elegant and refined types with excellent conformation and outstanding movements.
The Danish bred and Blue Hors owned Leandro son Virkelyst Leredo took the title as young dressage champion. He is very modern in type with an excellent top line and beautiful neck. Leredo moves with lots of knee and action from behind with the trot as his highlight. It was a tough decision for the licensing commission to crown Leredo as Champion as his closest competitor, the Hanoverian Rosentanz, bought at auction in Verden by Lone Boegh Henriksen, showed himself better and better at each presentation. He was described as a highly refined and beautiful stallion with three excellent basic gaits and not least four very correct and sound legs which is very appreciated in Danish Warmblood. The champion stallion is presently doing his 30 days test in Denmark, whereas Rosentanz, who is also approved for Hanoverian and Oldenburg breeding, will do his performance test in Germany later this season.
Blue Hors Romanov, Best 4-year old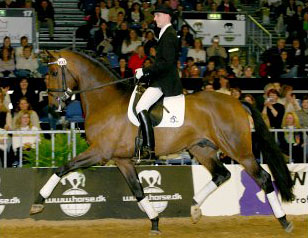 Blue Hors Dressage repeated their success at the ranking of the 4 year old stallions where Blue Hors Romanov (bred by Harli Seifert and a full brother to Rubin Royal) convincingly took the champion title as best dressage stallion. Showing under Andreas Helgstrand, Romanov demonstrated outstanding movements and when trotting through the arena he makes you float to Oldenburg, reminiscing his elder brother Rubin Royal who is known to be a spectacular trotter. However, Romanov also shows a canter of very high quality.
Last year's 3-year old champion De Noir, who covered more than 400 mares in Denmark last season, could not keep up with his previous success. The stallion has not developed much since last year and did not show as well under his rider as one could have wished.
In the ring of 5-year old and older stallions the German Trakehner son of Buddenbrock, Connery, took the champion title. He is an elegant stallion with three high quality basic gaits of which the canter is very strong. Former champion in Herning, Depardieu by De Niro, has developed into a rather heavy horse and does not live 100% up to the standards of Danish Warmblood who wishes to breed horses that are more refined than the average of horses bred in Hanoverian and Oldenburg associations. Head of grading committee Poul Graugaard explains that it is a fact that Danish stallions are slightly taller than the ones in the German breeding societies, but "we go for the refined type," he said.
Related Links
Official Press Release: Blue Hors Leredo, Champion of the 2004 Danish Warmbloo Stallion Licensing in Herning 
Skarsoe and Munchhausen Make Extraordinary Grand Prix Debut in Herning - Scores
Danish Warmblood Society - official website