2004 Olympic Games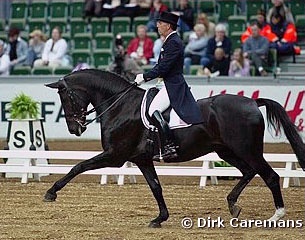 Grand Prix rider George Williams has withdrawn his horse Rocher from the American Olympic Selection Trials due to tendonitis problems the mare has developed. Rocher is owned by Joann and Chuck Smith
and is a Westfalian mare by Rolls Royce out of Fraenzi (by Fruhlingstern).
After their return from a successful tour of Europe in 2003, Rocher captured the home crowd at Dressage at Devon in 2003, winning the Grand Prix Freestyle in front of a sold out crowd of 15,000. With solid qualifying scores, Williams and Rocher's owners decided to let her rest during the early stages of the Olympic Selection Trials. Rocher, with her brilliant trot extentions and expressive ears is a crowd favorite, and was one of the top horses in the United States with their eye on Athens in 2004.
A statement issued by George Williams and Chuck and Joann Smith, reflect their concerns for both their wonderful horse, and the fans who have swelled in numbers over the past years;
"Rocher has developed some tendonitis, unfortunately so far it is not responding as well to traditional treatment as we had hoped. While we have been given two options we feel at this point in time that in the best interest of this wonderful horse we may have to withdraw her from the selection process for the 2004 Olympic games in Athens. Our final decision will be based on the simple fact that we don't want to do anything that puts Rocher at greater risk of injury nor do we want to hinder her full recovery."
"We know that the news of her tendonitis will disappoint Rocher's many fans, however it is our hope and expectation that given the proper time and treatment Rocher will be back in international competition in the future."
Image copyrighted: Dirk Caremans