2003-2004 KNHS/KWPN Stallion Competition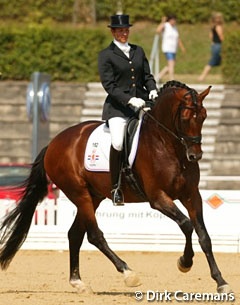 Hoomark's Ro-Lex (by Montecristo) became the M-level winner of the 2004 KWPN Stallion Competition in 's Hertogenbosch, The Netherlands, but he claimed victory in the absence of his biggest challenger, Hilltop Rousseau.
The bay KWPN licensed stallion Rousseau (by Ferro x Roemer) won the first two competition of the 2004 KWPN Stallion Competition (aka Divoza Cup) and had a five point lead coming into the finals. Unfortunately Rousseau and his rider Nicolette van Lierop were unable to ride the Finals in Den Bosch, as owner Hilltop Farm decided to pull him out of competition because of medical reasons.
Rousseau's performances of late have been complicated by an infection in the mouth and, in order to regain Rousseau's confidence in the arena, Hilltop decided to withdraw him from the finals.
"This was a very difficult decision to make," Scott Hassler of Hilltop Farm said, "we feel it is in Rousseau's best interest not to be challenged to perform under an adverse physical condition. We recognize the disappointment this cancellation will cause among the Dutch breeders who looked forward to seeing their stallions at the annual KWPN Stallion Show."
Nevertheless, Hilltop Farm is looking forward with a postive attitude. Their hope is to qualify Rousseau for the upcoming 2004 World Breeding Championships for Young Horses in Verden, Germany.
Image copyrighted: Dirk Caremans
Related Link
Divoza Bokaal Finalists to Compete at 2004 KWPN Stallion Licensing