2004 Olympic Games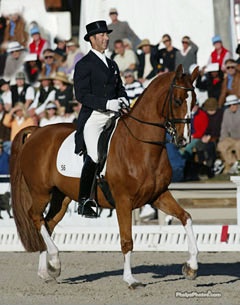 Last weekend the 2004 Dressage in Florida show season started with the Derby Series Kick Off competition in West Palm Beach, Florida. This season opener should have been ticked on your agenda if you wanted to see
the new 2004 combination at first hand. Standing out the most at this show was, without doubt, the new born pair Robert Dover and FBW Kennedy. Already showing their class at the Dressage at the National in November 2003, Dover and Kennedy illustrated their improving condition in West Palm Beach with 70% scores.
It has been obvious from the start that Robert Dover is vying for an Olympic berth this 2004 show season. Sponsor Jane Clark purchased Europe's best confirmed Grand Prix horse that was for sale in order to improve Dover's chances for a spot in the American Olympic dressage team.
Every spectator at the Derby Series Kick Off rallied round the main ring to see Robert Dover score 73.75% in the Grand Prix and 70.867% in the Special and win both classes. Dover's strongest competition came from Michael Barisone on Neruda and from Canadian Shannon Dueck on Korona. Yet, both riders followed him in a distance on the score board with more than five and two percent behind him. With these lower 70% scores at the beginning of the show season, Dover can be assured that the judges have close him in their arms again and want to consider him as a serious candidate for the USET team.
At Prix St Georges level three riders made a perfect 2004 debut by winning two classes each. Nancy Later won the open Prix St Georges with 68.750% and the Test of Choice Prix St Georges with 68.500% riding Atache. Colombian Marco Bernal put in two strong rides with La Spezia, earning 71.250% in the Prix St Georges and 67.500% in the Intermediaire I. Young rider Michael Shondel has maintained his 2003 shape and continued his string of success by claiming the blue twice with 65.500% (PSG) and 69.250% (Inter I).
Image copyrighted: Mary Phelps