2004 Olympic Games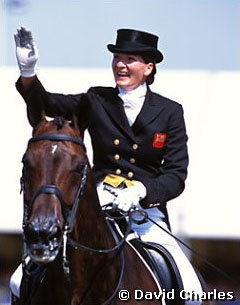 The World Class Performance Manager and the British Dressage Selectors have announced the riders who have been shortisted for the British dressage team at the Athens Olympic Games 2004. Following riders are selected:
Nicky Barrett (Hampshire)
Fiona Bigwood ( Kent )
Wayne Channon ( Sussex )
Richard Davison (Staffordshire)
Emile Faurie (Oxfordshire)
Joanna Fisher ( London )
Carl Hester (Gloucestershire)
Emma Hindle ( Cheshire )
Nicola McGivern (Buckinghamshire)
Sandy Phillips (Gloucestershire)
Laura Richardson (Oxfordshire)
Peter Storr (Oxfordshire)
The team will be selected after Wiesbaden CDI, 28-30 May 2004. The Olympic dressage competition will be held 19 - 25 th August 2004 . Other nations who have qualified to take part in the team competition include Germany, USA, Spain, Netherlands, Denmark , Sweden, Switzerland, and Austria.
Image copyrighted: David Charles