2003 CDI-W Mechelen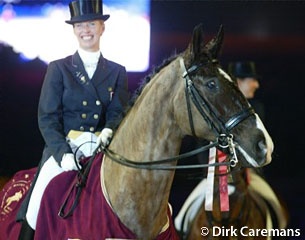 Anky van Grunsven showed she is back on top form with a resounding victory in the FEI World Cup Dressage Qualifier in Mechelen. The Dutch ace rode her young talent Gestion Salinero to victory here last year, but disaster was to befall her weeks later when injuries sustained in a fall at home put paid to her competitive hopes for much of the year.
Here this year, the nine-year-old Salinero exhibited a new level of accomplishment and surety in a breathtaking performance to a new freestyle programme L'Esprit Chanson designed by Cees Slings and Viktor Kerkoff. The whole package could only be described as brilliant.
Van Grunsven, the reigning Olympic champion who won the World Cup a record five times on her wonderful partner Gestion Bonfire, has now risen to third place in the season's rankings, and is on course for a place at the final in Dusseldorf (April 1-4 2004).
For Edward Gal and Gestion Lingh, also trained by Anky's partner and trainer Sjef Janssen, second place rewarded a new level of concentration and partnership for this comparatively inexperienced but talented partnership. Gestion Lingh's extended trot showed real brilliance and while he had every reason to be sensitive, as he can be, in this huge atmosphere and in front of a sell-out crowd, he put his trust and co-operation with his rider.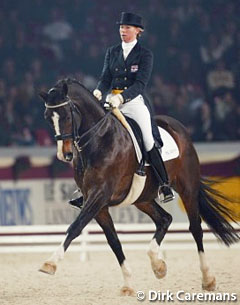 With Antoinette Falandt in third place on Jarwo, followed by Sven Rothenberger and Marlies van Baalen, Mechelen proved the place where the tide of Dutch fortune turned. The team failed to come home with a European medal, but as the New Year dawns with Athens on the horizon, prospects for a strong Dutch contribution to the World Cup Final on the way to Olympic heights are looking very rosy, given good fortune.
For the home crowd too there was hope for the future as Belgium's Jeroen Devroe turned in a promising performance for seventh place behind top Swiss rider Christian Plaege.
The next FEI World Cup Dressage qualifier takes place in Amsterdam, The Netherlands (Jan 29th - Feb 1st 2004).
Van Grunsven Dominates Grand Prix at Mechelen's Christmas Horse Show
Tomorrow in Mechelen, Belgium the Dutch invasion on the FEI World Cup dressage rankings is set to take place.
In today's qualifying grand prix, places were won and the grid positions decided for tomorrow's freestyle to music, where the big business of accumulating ranking points towards a place in the FEI World Cup Final (Dusseldorf April 1-4) commences.
Five-time World Cup winner and reigning Olympic champion Anky van Grunsven swept to a clear victory with Gestion Salinero in the qualifying grand prix today, with stable mate Edward Gal in second place with Gestion Lingh and in third, Antoinette Falandt, who scored the highest for Holland at the European Championships, riding Jarwo. So far the German competitors, punctuated by young British rider Emma Hindle's assault, which has put her second so far, have dominated the rankings.
Points leader Heike Kemmer had decided to sit this one out, as did Hubertus Schmidt (3rd), but Isabell Werth, another former Cup winner in equal fourth place with Sweden's Louise Nathhorst, had intended to compete here. Sadly Werth's veteran ride Antony FRH went lame just before they were due to travel. The field is open after today's clean sweep for Holland.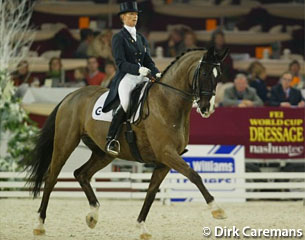 Van Grunsven only returned to the international grand prix arena in Maastricht earlier this month, having been sidelined through injury for much of this year. Her horse Salinero, at only nine years old, has little experience, and their performance today says much for the trust between horse and rider, which is essential at this, the highest level of equestrian competition. Van Grunsven commented: "It is not an easy arena here. The crowd were very nice and it was very busy, though that is not the easiest for horses. Salinero is very inexperienced, although he did not feel like that today. I am so happy with him, and he has already improved since Maastricht. It is great to be back."
On home ground, it was right that the Belgian riders made a good showing. Although sadly their current No 1 Johan Zagers was unable to start due his horse having a 'flu, Jeroen Devroe's sixth place proved promising for the country, which has not fielded a full team internationally since 1995. 
Nearly New Year it is, and while there are hopes to be fulfilled in future, tomorrow, in Maastricht, in a season where every qualifier is proving a top class contest for points, there are hopes and dreams concentrated on the World Cup in possibly its most competitive season to date.
Images copyrighted: Dirk Caremans
Related Link
Scores 2003 CDI-W Mechelen