PSI Auction News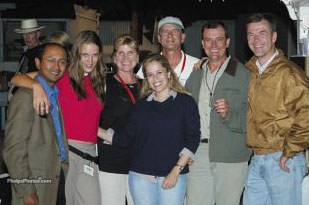 For years I have read about the P.S.I. auction and have always been completely amazed by their prices. Based on hearsay, P.S.I. seemed a bastion equally impenetrable as free masonry and only accessible for the god's wealthy representatives on earth.
However, after having met and talked to Dr. Ulf Möller at Dressage at Devon in September 2003, I -- a mortal man with hardly any cash -- got personally invited to come to the Auction in December and discover what it really is about.
Eurodressage is not easily convinced and loves to be critical about every single detail, but it is very, very hard to find flaws in the organization of the P.S.I. Auction. One week before the auction's kick off, the horses were presented to the public at the Artland Sporthotel. Insa Hansen made her first outing on auction highlight Poetin. Of course, this resulted in a stream of online debate and criticism on the new combination. Detractors said that Insa didn't look nice on the horse, others praised Poetin's development as she had become more muscled.
On Saturday December 6, 2003, the horses were shown again on a musical choreography, while prospective buyers were given a chance to test ride and vet them during the week and weekend. Of course, everybody wanted to sit on Poetin, even if it was for five minutes, but only the serious candidates got a chance to feel this magical horse.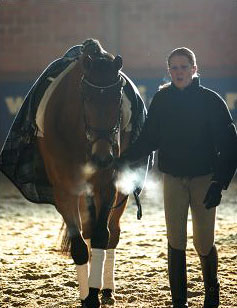 On Sunday morning several news buyers arrived and the horses were again tried out till noon in the freezing cold indoor arena. Each horse that entered the ring was perfectly groomed, its tack well cleaned, the bit shining and all four legs wrapped in white.
P.S.I.'s "Grundlichkeit" in organizing its annual auction is visible in the smallest details. The presentation of the horses is impeccable, the horses themselves are breathtaking, the catalogue and dvd show professionalism all the way, the program starts on time, the gala ball is fantastic, the food is excellent, the beer is for free, the arena is beautifully decorated, the service is an example for any event management team, the shuttle service is efficient, the hotels are the finest; the list of accolades for P.S.I. is never-ending. And even if still have a problem (I need a horse, a jacket, a ticket, a taxi, a coffee...) there is Ulf Möller to solve it.
The emphasis on perfection and quality is so strong with P.S.I., that at the end of the auction the entire staff was stressed out and dead tired from working so hard to achieve the absolute highest level of marketing and service in horse sales.
 Exquisite Gala Ball Sets the Mood for Fantastic 24th P.S.I. Auction
Now more fictional and non-fictional stories about the P.S.I. Gala Ball, ranging from bacchanals to black tie affairs, have reached my ears in the past, but now I can say one true thing about it: it's exquisite. The 2004 Gala Ball kicked off at 7 PM, but I arrived at 8.15 PM. All dressed up in my aubergine colored Cora Kempermann dress, I didn't feel the urge to bring my camera along, which would have ruined my outfit with a huge black Healthy Backpack, and my mobility at the ball (so sorry, no pictures of the party).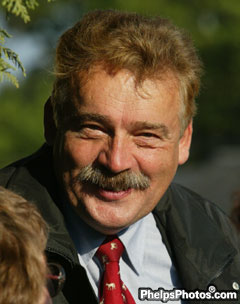 The Gala Ball definitely put my personality to the test, as I had to come to it all by myself with no a date to cling on to. It was gruelling in the beginning and it took twenty minutes for me to spot a familiar face in the crowd. Of course I saw many notorious people in the crowd, but most them I don't know perfectly and many were perfectly disguised in gowns and tuxedos, instead of wearing breeches and shadbellies.
My salvation was German judge Peter Engel. The friendly faced Engel remembered me from Devon and we immediately started talking. I felt such a relief to have found someone to stand close to and communicate with. Engel brought his friend Hubert to the auction. He was interesting man, whose daughter rides at Engel's barn Gut Gluckauf in Hunxe, where Nicole Uphoff is also located. Hubert's passion is not so much horses, but sailboats and he regularly goes on sailing trips to the Carribean.
I was ravished to see Johannes and Ines Westendarp at the party. We only know each other personally since the 2003 Oldenburg Stallion Licensing in Vechta, but there is definitely a connection between the three of us. Their kind nature and hospitality are heart-warming to me and I couldn't control my enthusiasm when I saw them in the distance. Throughout the evening we made prognostications about the sale of Poetin and had some wonderful chats about horses and dressage.
The only people I was sure of that they would be at the gala were the Americans Tim and Susan Dutta. When I found out Saturday afternoon that they didn't take their booked room in the Steigenberger Hotel in Osnabrück, I got so afraid that they wouldn't come to the auction at all and began to feel desperate. Fortunately, they were at the ball and from the moment I saw them sitting at the table I hardly had anymore worries for the weekend. I have know Tim and Susan Dutta for many years now through Mary Phelps in Florida, and they have always been very kind and open to me.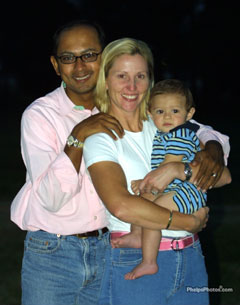 Tim and Susan Dutta, and three Irish people of which one is a famous show jumping rider now working for Schockemohle sat at our table. Dinner consisted of a gourmet buffet of the finest "German" specialties. It was good food and dessert was just sinful to dig into, but I did it anyway.
The fashion code at this German Ball is very different to the Belgian varients I've been to (university ball and a military ball). Most women wore Sissy inspired dresses with corset tank tops, a lot of glitter stitched on the fabric, and big wide skirts. But there were women who had a more modern taste. I even saw a lady with the same Versace dress that Demi Moore wore in the movie Indecent Proposal.
Bianca Kasselmann organized the entire ball. She arranged the food, the decoration of the room and invited the live cover band from Damme, Germany, which blew the roof off with their wonderful performances and vocal range. The dance floor was constantly packed with people, but I didn't dare to step on the floor without a date.. So, although I had my dancing shoes on, there was no boogie woogie for me this time. Mr Hubert felt sorry for me and we talked a while more instead. A bit past 3 AM, Möller arranged me a shuttle back to the hotel and it was hasta la vista for me.