PSI Auction News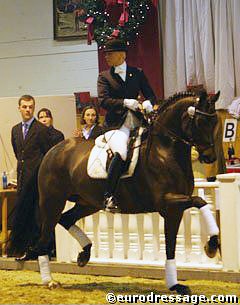 Imagination can not invent sufficient words to praise and describe Poetin. This Brandenburg mare by Sandro Hit x Brentano II is so exceptional, so unique and so rare that she has gained the same incomprehensible status as the Mona Lisa by Leonardo da Vinci.
Poetin is poetry in motion: three divine gaits, beauty beyond comprehension and competitiveness without limits. Poetin is a double Bundeschampionate champion and the 2003 World Young Horse Champion and was destined to be the most exclusive horse so far for sale at auction anywhere in the world.
Poetin sold for 2,500,000 Euro to Peter and Patty van der Zwan from Kessel, The Netherlands, and broke every auction record to date. "There were ten parties interested in her," Heckmann said, "and that's why the bidding went "tsak," "tsak," "tsak." The price went up 100,000 € at a time, but eventually stopped at an awe-inspiring 2,5 million.
Poetin was the second dressage horse to go in the auction and was placed in that position for strategic reasons. "We placed her in front, so that other people still would get a chance to buy a horse," Schockemöhle explained. Therefore, buyers were not encouraged to hold their cash till last.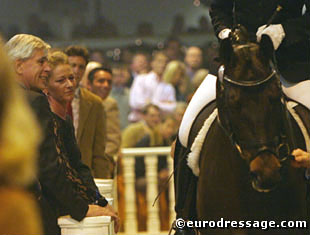 Poetin is one of the few horses raising a gigantic amount of debate in the dressage world. Everything that is good, must be torn down and the same happened to Poetin; her walk was supposedly not "good" in comparison to her trot, or Insa Hansen did a horrible job taking over the ride from Kathrin Meyer zu Strohen. Despite all this badmouthing, Poetin's status had not changed prior to the auction. "On the contrary, the horse's aura has even increased thanks to all the news, good or bad," Heckmann said.
Although Patty van der Zwan that Poetin will be used for sport and breeding purposes, her future at De Keizershoeve in The Netherlands is quite unclear. We can only pray that talent and potential of such a superb mare will not go to waste.