2003 Oldenburg Stallion Licensing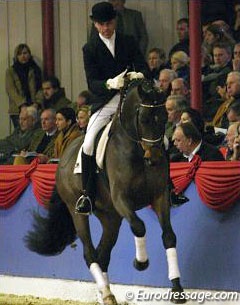 The Oldenburg Zuchtverband had a difficult task in finding an appropriate way of closing a highlight event such as the 2003 Stallion Licensing with style. As tradition dictates the "Althengst Parade" is the ideal way of honoring Oldenburg stallions and breeders.
It is the perfect opportunity to check what stallions the Oldenburg Zuchtverband has in stock and in which sires they take most pride.
The 2003 Althengst Parade was opened with the 2003 Licensing Champion and Reserve Champion, followed by an appearance of the 2002 Licensing Champion Stedinger (Sandro Hit x Landadel). The first "large" group of stallions that entered the ring contained stars such as Chico's Boy under Holga Finken, the elegant Trakehner K2 under Julia Katharina von Platen and the 3-year old future prospect San Rubin (Sandro Hit x Rubinstein) under Dr Ulf Möller.
Gestut Birkhof was represented in Vechta with the 4-year old Oldenburg stallion Royaldik (Royal Diamond x Caramel xx). Under Nadine Plaster, the bay stallion showed much suppleness and reach in his movements combined with great rideability. Bianca Kasselmann rode the liver chestnut Welt Hit VI (Weltmeyer x Hill Hawk), a licensed stallion previously trained and competed by Dr Ulf Möller. Welt Hit VI has developed into a nice FEI horse already schooling the upper level movements. Heiko Klausing presented the Prix St Georges stallion Donatelli, who is moving to the U.S.A for the 2004 breeding season, but it was painful not to see him on Don Larino, the 2000 Hauptpremium Sieger by Don Primero. The immer-friendly Klausing won the Bundeschampionate in 1999 with Don Larino, but the owner decided no longer to have him in training and only use him as a breeding stallion. In Vechta, Don Larino still showed to have immense capabilities but the horse hardly had any muscles and training experience in him.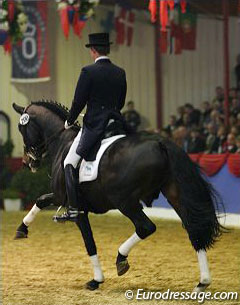 Making the biggest impression of all was Rubin Royal (Rohdiamant x Grundstein II) under Dieter Weichert. Just as the 2003 Reserve Licensing Champion by Rubin Royal, sire Rubin Royal has an unbelievably superb moving mechanism. Stallions are very often spectacular as they are all pumped up at stallion shows; they throw their legs and seem to be incredible movers, but behind they are walking instead of trotting. That is absolutely not the case with Rubin Royal. This horse has the power and talent to be strong and impressive in front AND behind.
Karin Rehbein saddled Dionysos, a De Niro x Rubinstein, who has been correctly classically trained. He was light in front all the time so that the naturalness of his movements were visible in every gait. Lisa Wilcox rode Jazz Time (Jazz x Romadour II) but had a handful with him. The stallion had to wait too long before entering the ring and was all nervous when he entered. The dark bay Prix St Georges trained Jazz Time reared several times, threw off Wilcox (who landed without hurting herself) and ran off to the warm up ring). Ten minutes later Wilcox entered the ring again and soothed him in a very relaxed and calm way. The stallion tried to challenge Lisa's riding skills only once more and was then a very good boy. The Rubinstein line was represented by Rhodes Scholar under Kira Wulferding. Owned by the Floridian Holly Simensen, Rhodes Scholar (Rohdiamant x Grafenburg) is an extremely elegant and rideable stallion with a great personality. He has the beauty of his sire, is uncomplicated to ride and shows much talent for FEI level.
It was a pleasure to see Miriam Henschke in the ring with the double Bundeschampionate winner Lord Sinclair (Lanciano x Raueck I). The dark bay Bavarian sire has been trained to Intermediaire I level but is no longer in competition. Although none of colts were selected for the Oldenburg licensing this year, he is still one of the most used sires in Germany.
The Donnerhall line appeared in Vechta through stallions Day Dream, Del Piero and Davidor. The latter did not really deserve a place in between top sires such as Schlossacker's Day Dream and Ingo Pape's Del Piero. Davidor was slow behind, had no power, and is extremely classical and rough in conformation. Del Piero and Day Dream on the other hand are modern sport horses with elegance and supple movements. Especially Day Dream stole the show under Katrin Burger. The black sire by Don Gregory x Schärmer was the 1996 Vechta Elite Auction highlight and went on to become a great stallion and FEI dressage horse.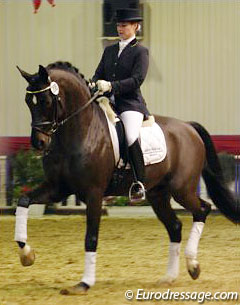 The 2003 Bundeschampionate stars Florencio, Farewell III, Baroncelli and Rusty had their go after the Donnerhall offspring. Rusty was the three year old gelding Bundeschampionate winner under Julia Katharina von Platen. In Vechta the chestnut stallion showed an incredibly solid walk, but could have been a bit quicker behind in the trot, even though he moved with a good rhythm. Hans Peter Minderhoud presented the Florestan offspring Florencio. His Dutch way of riding with very low, fixed hands and a very curled up neck stood out in all other German trained stallions. Florencio is gifted with a fantastic canter. Susan Draper's Baroncelli was not really the horse I expected him to be. So many positive reviews were ridden about Baroncelli, but today in Vechta he did not excel. His movements were nice, but not flamboyant. The end of a long season could have contributed to that. Showing fantastic talent, on the other hand, was the delightful Show Star (Sandro Hit x Feinbrand), presented by Henrike Sommer-Böker. The dark bay sire was light footed, active and round all the time. Katrin Burger's FBW French Kiss (Florestan x Donnerhall) was nice and together, but he lacked electricity.
Hohenstein and Latimer were the Trakehners on duty to please the audience. Ridden by the 14-year old Theresa Wahler, Hohenstein was calm and collected during the pas de deux with his stall mate Latimer. The latter former Bundeschampionate winner was ridden by Nuno Palma e Santos, but was tense and scared from the commotion in the stands. He exploded several times and did not show his movements well enough.
Oldenburg's favorite rider Lisa Wilcox gave a short clinic with Royal Diamond (Rubinstein x Inschallah AA) on some of her training techniques, which accentuated the importance of a quiet rider's seat. Wilcox's number one stallion Relevant was not in Vechta, but his full brother Revan was, as the stallion became the 2003 Haupt Premium Sire because of winning the Oldenburg Regional Championships and his first convincing first crop of foals. Revan (Rubinstein x Goldloewe) is bred by Heinz Luërs and owned by Gestut Vorwerk.
Images and text copyrighted: Astrid Appels
Back to the Licensing Index