2003 Oldenburg Stallion Licensing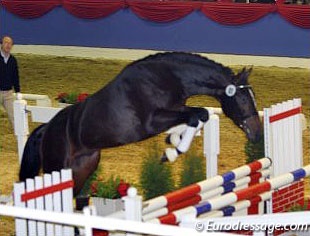 The Donnerhall, Rubinstein and Sandro Hit offspring have persevered in the most difficult test for them: free jumping in the "springkoral." It has proven to be a misunderstanding that Donnerhall get cannot jump.
Today, the Donnerhalls showed good scope and technique clearing three fences of a decent height. Especially # 22 (Donnerhall x Argentan x Mozart) showed good jumping skills, just as # 23 (Donnerhall x Kennedy x Karon), the Three Crowns Farm's owned # 27 (Donnerhall x Pik Bube I x Weltmeister) and most suprisingly the #28 (Donnerhall x Pik Pavarotti x Grenadier) who is in fact entirely bred out lines that can't jump.
While the R-line colts in generally do not blast over the fences, this year most of them showed decent technique and were up to the test, as jumping requires power in the hind quarters, a strong back and in good leg usage in general. Clearing the obstacles well were #58 (Rohdiamant x Donnerhall x Coriolan), #64 (Rubin Royal x Calmiro x Eldorado), the already performance tested #65 (Rubinstein x Ex Libris x Furioso II) and Antony and Sarah Pidgley's # 67 (Rubinstein x Prince Tatch xx x Ganymed).
When running in freedom the Sandro Hit offspring moved with much suppleness and rhythm and most of them showed good jumping skills. Zuchthof Helle's # 70 (Sandro Hit x Landadel x Fantast) and Gestut Lewitz' # 71 (Sandro Hit x Landadel x Paradox II) and #80 (Sandro Hit x Donnerhall x Feldherr) cleared the fences with much scope and power.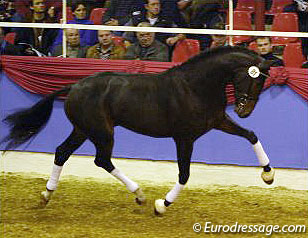 Of course, the best jumping results were produced by the jumping bred stallions. Making the biggest impression of the day was without a doubt catalog number 5, a chestnut bred Cordalme x Pilot x Weinberg; who has been properly named Cosmonaut as he made several giant leaps for mankind watching him in the stands. The chestnut Lordanos x Landadel x Weinstern (#48) showed huge scope, but could have been a bit quicker in his reaction. Absolutely fabulous was also the Belgian bred (!!) # 34, a Heartbreaker x Randel Z x Siegfried and #36, a Lady's King x Silvio I x Grannus. Deserving credit for his potential was # 43, a Lifestyle x Cor de la Bruyere x Poet xx colt owned by Gestut Sprehe. Heike Albert's Lifestyle x Voltaire colt also proved to be very capable, but unfortunately no Lifestyle offspring has been selected for the fourth and final licensing viewing. The group of show jumping bred colts was of good quality; they were not impressive movers, but showed great potential as show jumpers.
Auktion fever is rising in the Oldenburg Halle in Vechta. There is a lot of interest in the colts from buyers world wide and everybody has been making their decision today. Tomorrow the licensed stallions will be announced as well as the Champion Stallion. Number 23 and 64 are definitely in the running for the title.
Images and Text © Astrid Appels
Back to the Licensing Index