2003 Bundeschampionate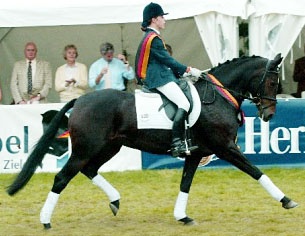 The 5-year old Dressage Ponies at the 2003 Bundeschampionate were in a way a bit disappointing. There were no real highlights in the class, but there was a large group of solid dressage ponies presented.
None of the 5-year olds was able to get a 9.0 score. Winner of the class was Forestina, a dark bay mare by Flying Dream, the 1998 Reserve Bundeschampion, out of a Derbino dam. Forestina scored a final's score of 8.6. The Rhinelander mare is bred by Ernst Jochmann from Vörde, Germany, and was shown by her owner Anna von Negri.
In the finals, Von Negri and Forestina showed a very nice trot tour. Eurodressage's favorite commentator Christoph Hess said that Forestina is "a very rideable and talented pony who can easily be ridden by a child." Though Forestina was 8th in the qualifier, her finals' score of 8.6 made her beat the second placed Dornika B, who was already reserve champion in 2002 and third placed in 2001. Dornika B is by Dornik B out of a Nantano dam and scored 8.3 in the finals. "She has three very clean gaits with a very good beat," Hess said. Bred by Wilfried Nogaitzig, Dornika B is a Westfalian branded pony owned by Christian Richter.
The bronze medal in the 5-year old class went to Night Time, a Night Power x Colorado dam who qualified for the finals through the consolation finals. Under owner Julia Knickenberg, Night Time scored 7.8. Very disappointing was the performance of last year's winner FS Champion de Luxe. Under Ann Kathrin Platzer, this licensed pony stallion showed good gaits, but was inattentive to the aids. They finished 10th.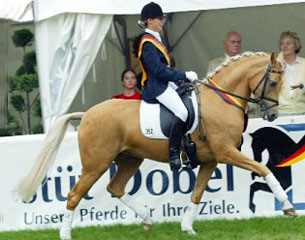 Very interesting and surprising was the 6-year old Dressage Pony Division. European individual bronze medallist Lydia Camp and Dulcia were able to make history at the 2003 Bundeschampionate if they were able to win the 6-year old division. Following the footsteps of legendary ponies Dressmann and Dornik B, Dulcia had her chance to make history if she would win her fourth consecutive Bundeschampionate Title. Rule has it, that the way to ultimate glory is very hard.
Owned and ridden by Lydia Camp, the palomino mare Dulcia took a rocky start in the qualifier finishing seventh. Stress for reaching her goal attributed to the 7.8 score in the first round. The winner of the first round was Stephanie Jansen on her European Championships' pony Dornik Double. However, in the finals, Camp did what was expected of her and she presented an absolutely fantastic Dulcia, who is by Dancer Boy x Derbino. "A superb trot mechanism, an excellent walk as well as the canter," Hess said. Their was a cutting edge tension in the ring while the rider and audience waited for her final score. With a 9.5, the way was clear to their fourth title. Stephanie Jansen and Dornik Double (by Dornik B x Vento) placed second with 9.6, showing outstanding trot and canter extensions in their finals' test. The third placed was for Danny Boy B, a Rhinelander by Flying Dream x Power Boy. Lisa Maria Eppers collected a 8.9 score with this pony.
Text by Astrid Appels and FN-DOKR
Images used with kind permission of Rhinelander Verband/FN-DOKR - No Reproduction allowed
Back to the 2003 Bundeschampionate Index