2003 European Pony Championships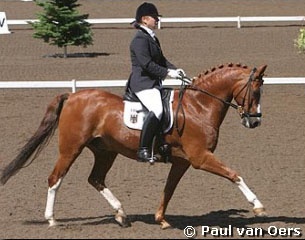 Winners of the individual silver medal at the 2003 European Pony Championships were Patricia Hohn and Konrad. Scoring 73.41%, 73.00 % and 73.76% they finished second three times in a row and truly found the silver lining.
Höhn was unfortunate to ride her individual finals in a rain storm, but nothing could damper her spirits and the pair deserved finished second overall.
Höhn made a wise choice to lease schoolmaster and former European Champion Konrad for her first Euro Championships experience. Konrad, a 13-year old Weser Ems chestnut pony by Constantin x Lungau, won the 1997 European Pony Championships in Hartpury, England, under his first FEI rider Nikolas Kroncke. The chestnut gelding then went on to compete under Kira Kroncke (1999 European Pony Champion), Annika Fiege (2002 European Silver Medallist) and Patricia Hohn (2003 European Silver Medallist). Although Dressmann won two consecutive European titles, Konrad still remains to be the most succesful pony in the history of the European Pony Championships.
Patricia Höhn lives in Worms, Germany, and is trained by Uta Gräf. She started riding the FEI pony tests in 2001 on Tre Lord Nelson, with whom she became the 2002 Rhinelander Reserve Pony Champion. Before that, Tre Lord Nelson was the 1998 German team pony of Tobias Wilmes, now a young rider aboard Samson. Höhn's other ponies are Consider and Tonkawa.
The Höhn family purchased Konrad as the 2003 ride for Patricia. Aboard Konrad, Patricia finished third in the 2003 Preis der Besten in Warendorf and was immediaitely selected for the German Pony team. At Necarne Castle, the pair lived up to the expectations and finished in the silver medal position.
Image copyrighted: Paul van Oers