2003 European Junior and Young Riders Championships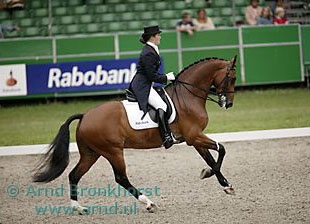 L'Ecole Nationale d'Equitation de Saumur (FRA) successfully organised the European Dressage Championships for Juniors and Young Riders from 22 to 27 July 2003.
The Netherlands and Germany confirmed their supremacy in Dressage and shared most of the individual and team medals. Germany earned the Young Riders European team title with a total of 4756 points, ahead of the Netherlands (4710) and Belgium (4493), while the Netherlands won the Junior Championship with a total of 4086 points ahead of Germany (4056) and Sweden (3786).
Thamar Zweistra (NED) on Hexagon's Kyrian (pictured) earned the Gold medal of the Young Riders' Championship, ahead of Jan Andreas Vierbrock/Directeur (GER) and Jessica Werndl/Duchesse (GER). The Junior individual title went to Angela Van der Berg (NED) and Mix while the Silver and Bronze medals went to German riders Dirk Vierbrock/Willi the Kid and Kristina Sprehe/Wyoming.
Hundred-six riders from 20 nations competed in the Championship, which also saw some stars of Dressage in the public, such as Olympic champion Anky Van Grunsven.
Source: FEI
Image copyrighted: Arnd Bronkhorst