2003 World Championships for Young Dressage Horses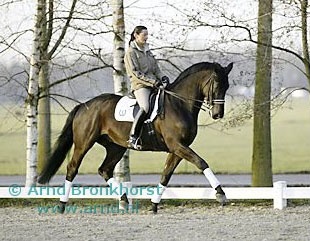 After several selection trials, the Dutch Equestrian Federation and the KWPN selected the following horses from the short list to compete for the KWPN studbook at the 2003 World Championships for young dressage horses in Verden.
5-year olds:
Hilltop Rousseau (Ferro x Roemer) - Nicolette van Lierop
Rhodium (Ferro x G.Ramiro Z) - Hans Peter Minderhout
Magic Rodrigo (Indorado x Stuyvesant xx) - Edward Gal
Riant (Jazz x Julio Mariner xx) - Anke ter Beek
XXL (Krack C x Balzflug) - Edward Gal
6-year olds:
Pays-Bas NL (Cabochon x Zeoliet) - Christa Laarakkers
Paddox (Ferro x Darwin) - Marijke Folmer
Pasternak (Gribaldi x Cocktail) - Coby van Baalen (pictured)
Reduson's Patser (Jazz x Ariban xx) - Madeleine Vrees
Paso Doble (Krack C x Orlof) - Anouk Hansen
Painted Black (Gribaldi x Ferro) -Anky van Grunsven
As Anky van Grunsven is ranked in the top twelve of the FEI/BCM Riders' rankings, she can automatically compete in Verden. She will be riding Painted Black, a horse previously shown by Hans Peter Minderhoud and by Tanja Awater.
Source: KWPN
Image copyrighted: Arnd Bronkhorst