2003 European Dressage Championships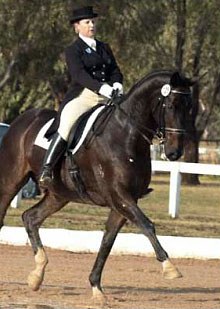 The EFA, the Equestrian Federation of Australia, is pleased to announce that NSW rider Sue Hearn and her 14-year-old thoroughbred gelding Manhattan will travel to England as the reserve combination
for the Australian team to compete at the Open European Dressage Championships in August. This event is the last opportunity for Australia to qualify a team for the Athens 2004 Olympic Games.
The EFA had originally planned to send four combinations to Hickstead. However, with the selection of two Europe-based riders, Kristy Oatley-Nist and Emma Youngman, on to the team, it was decided that due to the importance of the event as a qualifier for Athens, sending a reserve combination from Australia was appropriate. This will be Sue's first overseas experience with her horse. Even if she is not required at Hickstead, it will provide a valuable experience for Sue and Manhattan.
EFA High Performance Manager Gareth McKeen commented: "When we planned to send only four riders and horses to Hickstead, there was an element of risk associated with not having a travelling reserve. We had discussed this with the riders prior to selection and all seemed to recognise the rationale behind this decision, which was based primarily on funding. However, we now feel that with Ricky MacMillan withdrawing from the team, it was important to have a reserve on hand if needed."
"We also recognise", Mr. McKeen added, "that Sue would gain significant benefit from the overseas experience and from being part of an Australian team. The decision thus has two aims: to qualify a team for the Olympics and to provide valuable experience for Sue and her horse. Whilst Sue is one of the most consistent elite competitors in Australia, she has not had exposure to overseas competition and travel."
The EFA is currently entering Sue into the CDI** Fry's (GBR) and CDI*** Rotterdam (NED), providing the combination with international competition if they are not required for the team at the Open Europeans.
The horses will depart Australia on 25 July from Melbourne and will travel directly to England to a training base in West Sussex.
Image copyrighted: Roz Neave
Back to the 2003 EDC Index