2003 European Dressage Championships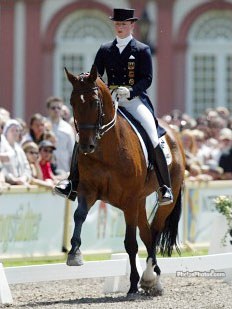 After the national German Dressage Championships in Gera, Germany, July 11 to 13, 2003, the German Olympic Committee (DOKR) and German Equestrian Federation (FN) decided to nominate the following riders for the short list for the 2003 European Dressage Championships:
1. Ulla Salzgeber with Rusty & Wall Street
2. Klaus Husenbeth with Piccolino
3. Isabell Werth with Satchmo
4. Heike Kemmer with Bonaparte
5. Ann-Kathrin Linsenhoff with Renoir-Unicef
6. Nadine Capellmann with Gracioso
7. Hubertus Schmidt with Wansuela suerte
It is still unsure whether Ulla Salzgeber will be eligible to defend her European title in Hickstead. The doping case concerning Rusty testing positive at the World Cup Finals has not yet been legally settled, nor have the B-test results been revealed.
Image copyrighted: Mary Phelps
Back to the 2003 EDC Index