2003 European Dressage Championships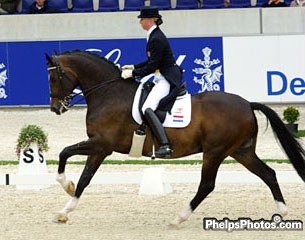 The national Dutch dressage competition in Breda served as final selection trial for a Dutch team membership at the 2003 European Dressage Championships in Hickstead, England.
Chef d'equipe and O-judge Jan Peeters selected the following team based on their achievements in Breda and during the 2003 show season:
Anky van Grunsven - Gestion Salinero
Arjen Teeuwissen - Gestion Goliath T
Ellen Bontje - Gestion Silvano N
Antoinette Falandt - Jarwo
Reserve: Edward Gal - Gestion Lingh
Finally, the Dutch Equestrian federation seems to be able again to constitute a strong, competitive team. After the 2000 Olympic Games, Holland was no longer able to present a challanging equipe at the international championships.
Image copyrighted: Astrid Appels
Back to the 2003 EDC Index