German Dressage News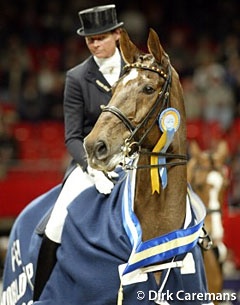 The "doping drama" concerning Ulla Salzgeber's Rusty has probably already come to an end, before a trial date has been set by the judicial commission of the FEI.
Salzgeber's Swiss lawyer Ulf Walz is sure that his client will not be sentenced. "The documents that I have do not prove that Rusty's blood test, taken at the World Cup Finals in Goteborg, exceeds the threshold level of testosterone," Walz explained.
According to the veterinarians of the University of Zurich significant features, proving that the blood sample contained more than 20 nanograms testosterone per millimeter, are missing.
Yesterday, Ulla Salzgeber demanded the results of the B-analysis of the Goteborg doping test, but it is uncertain that they will be presented. Lawyer Walz is determined that the charges against his client are unjustly "Many of the doping charges will not be prosecuted just on formal grounds. This has been the biggest scandal in equestrian history," Walz stated.
Salzgeber will, therefore, be cleared of all charges, she will get her World Cup Title back she will compete at the European Championships in Hickstead and qualify for the Olympic Games in Athens.
Source: St Georg
Image copyrighted: Dirk Caremans
Related Link
Rusty Tested Positive to Doping