2003 European Dressage Championships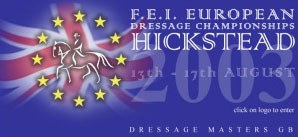 For Britain to host the European Dressage Championships is indeed an honour. For the first time in 16 years, the elite dressage riders of the world are welcomed to Britain
to contest this coveted title and The All England Jumping Course at Hickstead will provide the ideal venue. Situated in the south of England, close to Gatwick Airport and within reasonable distance of the Channel ports, the showground is easily accessible to visitors from Europe. Hickstead is Britain's premier dressage venue and offers friendly hospitality, shopping and entertainment as well as an exciting week of world-class competition.
The Event 
The event is considered an "open" Championship, allowing entries from around the globe and also providing the last opportunity for nations to qualify for the 2004 Olympic Games in Athens. This major sporting event will attract a large number of spectators from Europe as well as a strong home crowd.
The Riders 
In the region of 20 nations are expected to send team and individual competitors to contest the coveted European title. Reigning champion, Ulla Salzegeber (GER), plans to defend her title with Rusty, who she described as being on top form following his recent World Cup win. Current Olympic Champion, Anky van Grunsven (NED) is also expected to challenge for the title and Nadine Capellmann and Farbenfroh (GER) will be a strong contenders following their World Championship win in Jerez. The British team of 4 will be chosen from a pool of top riders including those currently on the World Class Performance Plan. Riders in with a chance of making the team include Richard Davison, Emile Faurie, Nicky Barrett, Laura Richardson, Nicola McGivern, Sandy Phillips, Carl Hester and Fiona Bigwood.
The Competition 
The team Championship is decided during the Grand Prix, held in two parts on Thursday and Friday, with every international rider taking part. The tension begins to mount as twenty-five top riders go forward to contest the highly coveted individual Championship, riding the Grand Prix Special on Saturday. The finale is the ever-popular Grand Prix Freestyle on Sunday to decide the overall winner. Throughout the five days of world-class competition, the victors and the vanquished will have taken part in a truly top class event and it is hoped that more competitors will be encouraged to compete in Britain in the future.
Rhinegold British Young Horse Championships 
Over the 5 days of competition there are two more coveted titles to be won with Britain assured of victory. The Rhineghold British Young Horse Championships will see potential dressage stars of the future from all parts of Britain challenging for the title. The finals will be judged in the International Arena on Sunday.
British Pas de Deux Championship 
Following the huge success of the Pas de Deux at Hickstead last year, this championship is now becoming a popular feature of the event. British pairs will contend the championship and the winners will compete against an invited international pair in a special event on Sunday.
Displays 
As well as world-class dressage, a number of exciting arena displays will entertain spectators. The Household Cavalry display and a specially choreographed Quadrille will take place each day and there will also be a fascinating demonstration of Portugese Working Equitation with a team of Lusitano horses. Tanya Larrigan's amazing Mini Marvels®, a team of minature horses working on long reigns, will perform their interpretation of Riverdance.
Evening Extravaganza 
A not-to-be-missed Gala Evening to be held on Friday is described as an extravaganza of equestrian entertainment, incorporating a host of exciting displays in the International Arena.
Other Attractions 
Outside of the arena there will be much of interest including a lively shopping village where the visitors can indulge in some essential retail therapy. The International Sport Horse and Sport Medicine Symposium will provide a public forum for world famous physicians and veterinarians to discuss topical subjects. Do not forget to take a look at the warm-up arenas that often provide a fascinating, behind-the-scenes glimpse of the dressage world.
Throughout the event there will be musical entertainment, and lots of wonderful food and drink to suit all appetites, helping to prove that dressage really is a sport to be enjoyed by all.
Back to the 2003 EDC Index