2003 European Dressage Championships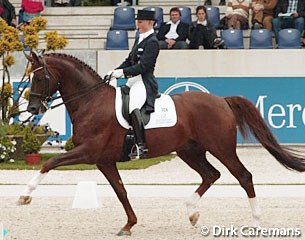 The Australian Equestrian Federation determined today the following team to compete for Australia's Olympic qualification at the 2003 Open European Dressage Championships in Hickstead, England.
Ricky MacMillan with Crisp 
Mary Hanna with Limbo 
Kristy Oatley-Nist with Rosemount Don Bolero
Emma Youngman with Rasputin
Heath Ryan with GV Stirling Stilton and Sue Hearn with Manhattan are the reserves. In Hickstead, the Australian dressage team aims at qualifying their team for the Olympic Games in Athens 2004.
Image copyrighted: Dirk Caremans
Back to the 2003 EDC Index