2003 World Cup Finals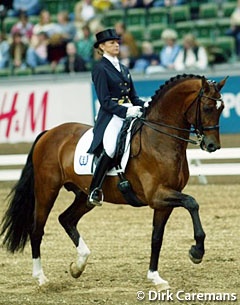 It's been since Nicole Uphoff's 1988 break-through that no young rider has ever made such an easy and successful transition from Young Riders to Grand Prix level.
Only one year ago, Dutch Marlies van Baalen was the team gold medalling winning rider of the 2002 Dutch Young Riders team, and this year she already finished 11th in the 2003 World Cup Dressage Finals.
Of course, Marlies van Baalen's conditions are exceptional. She is probably the only former young rider -- together with Ellen Schulten Baumer -- who has so many good horses at her disposal, thanks through trainer Johan Hinnemann. Riding many of the Westfalian State Stud stallions, such as Fidermark, Roman Nature and Feinsinn, as well as the American owned KWPN breeding stallion Idocus (by Equador), Marlies can draw straws when chosing which Grand Prix horse to ride at which event.
For the World Cup Qualifiers and Finals, Van Baalen chose Idocus, who was already trained at Grand Prix level by American dressage riders Lendon Gray and Courtney King when he became Marlies' new partner.
Van Baalen only had to fine tune the buttons on Idocus, but the result of her efforts is impressive. With the help of mother Coby van Baalen and trainer Johann Hinnemann, Marlies got Idocus in shape to win the World Cup Qualifier of 's Hertogenbosch. At the 2003 KWPN Stallion Licensing one month earlier, Marlies and Idocus' owner Christine McCarthy were honoured for their contribution to the promotion of the KWPN breed on the international dressage scene.
The apex of the still young relationship between Marlies and Idocus is now probably finishing 11th overall at the 2003 World Cup Dressage Finals. Their scores in Goteborg were not as high as expected of them, 66.52% in the Grand Prix (11th) and 72.14% in the freestyle (11th), but their performance in general is one to be envied.
In the Grand Prix at Goteborg, Idocus was very tense, as he was impressed by the large indoor arena. The pair made two mistakes in the piaffe, but overall Marlies was able to relax Idocus better in Goteborg, than during their Moscow ride six months ago where everything went wrong. "Marlies has improved so much, " Coby van Baalen said. "Everytime there is a bit of tension, Marlies can cope with the problem and fix it instantly. The next time she not only has to solve the problem, but she also has to try to correct and improve the movement at the same time."
Being 22-years old Marlies was the youngest participant at the 2003 World Cup Dressage Finals.