2003 World Cup Finals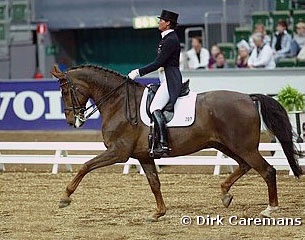 Ulla Salzgeber is well on her way to establish a hattrick in the World Cup Finals history. With two consecutive wins in a row (2001-2002), it is most likely that Salzgeber will claim her third title in the World Cup Finals this year in 2003.
Riding her world class mount Rusty, a Latvian gelding by Rebuss, Salzgeber scored a top 77.40% and struck a gigantic gap with American Debbie McDonald, who followed in second place with 72.28%. Rusty is in top shape and maybe we'll see a new recond score in the Grand Prix kur if he manages to stay flawless in his Carmina Burana Kur.
Debbie McDonald "Kicking" at the Door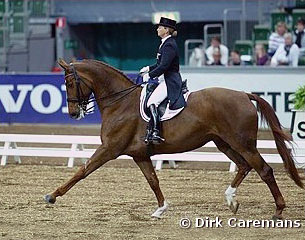 When American Debbie McDonald made a historic performance by finishing second in the Grand Prix Special at the 2002 World Equestrian Games, Brentina's owner Peggy Thomas said: "I told you we would be kicking at the door, not knocking." Well, McDonald is doing it again. Seldom seen on European soil, but when she's there, McDonald is always "kicking at the door".
Surprising all other world-wide competitors by finishing second in the Grand Prix at the 2003 World Cup Dressage Finals, McDonald had a thrilling ride once again aboard the Hanoverian mare Brentina (by Brentano II). It seems to be that the combination's major weakness is stress-tolerance. In Jerez, as well as in Goteborg, McDonald made a few small mistakes and therefore lost valuable points. In the two tempi's a one-tempi change was added at the end and she made 13 one-tempi's instead of 15.Furthermore, a hesitation in the passage-piaffe transition, made McDonald's score drop to 72.28%.
During the press conference, McDonald confessed that she was distracted and that the errors in her test were entirely her fault. But she also added that she rides better when she's mad at herself, and will be totally going for it in the Freestyle on Sunday.
Anthony FRH Hausse for Isabell Werth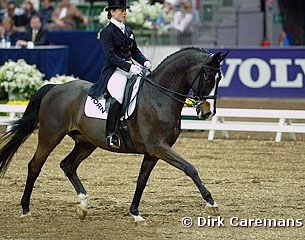 Probably one of the most bi-polar horses on the European Dressage Scene is Anthony FRH. At one show, he's having a "hausse", meaning that he's a brilliant reflection of classical dressage, supple in every movement and flawless in every exercise, but at another competition, he can be stubborn, resistent, and obnoxious.
Former Olympic Dressage Champion Isabell Werth, knows the buttons to her 17-year old Hanoverian gelding (by Argument/T), but is as subject to her horse's mood swings as would be any other rider. When Anthony has a hausse, he's world class and, fortunately for Isabell, he's having a good weekend again at the 2003 World Cup Finals. Scoring 71.60% in the Grand Prix, Werth and Anthony FRH finished in a strong third position, with an overall second place after the freestyle in reach. That is, if Anthony FRH stays focussed of course.
Heike Kemmer and Albano On the Move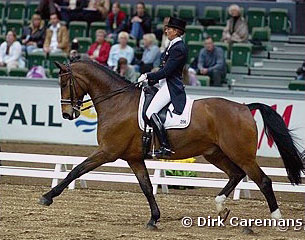 Another combination subject to changing performances are Heike Kemmer and her Oldenburg gelding Albano (by Argentinus). The pair was hot in Germany, when the German team was in desperate need of a strong team rider for the 2001 European Championships, but after her wonderful 2001 show season, Kemmer retreated into the limelight and her performances hardly reached the magical 70% boundary. Kemmer worked hard with Ulla Salzgeber and Ernst Hoyos during the 2002 show season to bring her horses back up to top level. She dominated the World Cup Qualifiers with Albano (CDI-W San Patrignano) and Bonaparte (CDI-W 's Hertogenbosch), but eventually chose to ride Albano at the Finals in Goteborg, Sweden.
Scoring 70.76% in the Grand Prix, Kemmer and Albano did better than they were generally expected to do. The massive bay gelding Albano showed much engagement and stayed up throughout the test. They are in a comfortable position for the freestyle that opens opportunities for a top three placing.
George Williams and Rocher Claim a USET Position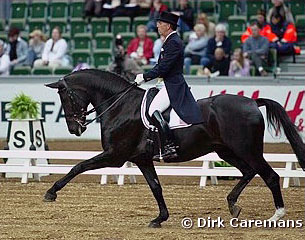 Rising star on the American dressage firmament is George Williams with his Westphalian mare Rocher (by Rolls Royce). The dynamic duo just missed out on a spot on the 2002 American World Equestrian Games' team, but did not give up hopes for USET team membership. Winning the 2002 Dressage at Devon CDI with high 70% scores, and dominating the World Cup Qualifier in Wellington, Florida, George Williams and Rocher could not be ignored as America's newest hope and was selected as one of three riders to represent the U.S at the 2003 World Cup Dressage Finals.
Williams shipped Joanne Smith's mare Rocher to Germany, March 9, to train a little more with Klaus Balkenhol before travelling to Goteborg for the Finals. The combination had a test ride at the CDI Dortmund where they did well, but were had the "lowest" score of the American riders. This changed in the Grand Prix in Goteborg. Williams scored 69.92% (finished fifth) and did better than USET established team member Guenter Seidel.