2003 World Cup Finals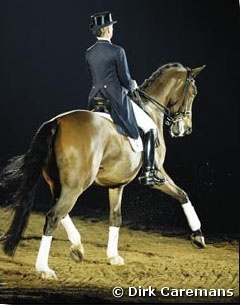 There is currently a wide spread confusion in the dressage world about the distribution of wilds cards for the 2003 World Cup Dressage Finals in Goteborg, Sweden.
This week, it became known that both Debbie McDonald and Lisa Wilcox had received a wild card through American team coach Klaus Balkenhol. However, this news has never been communicated by the FEI, nor Joep Bartels, organizer of the World Cup Dressage. Furthermore, it was heard through the grapevine that Isabell Werth would have received a wild card as well
Mariette Withages, Chairwoman of the FEI Dressage Commission, clarifies the situation. "Isabell Werth rode the qualifiers and will not receive a wild card. She might get selected for the finals, depending on her ranking in the Western European League. Concerning Lisa Wilcox, I can only say that the distribution of the wild cards has not been finalised yet, but it is true that Debbie McDonald has received one," Withages explained.
The riders who will participate at the World Cup Dressage Finals are selected from the standing lists. The eight best riders of the Western European League are qualified, the two best from the Central European League will be selected, as well as the winners of the League Finals in Canada, the U.S.A and Australia. Japan will not be represented in the 2003 Finals. Every country can only send out a maximum of three riders, the winner of last year's finals not included. Therefore, Germany will probably send out four riders, including 2002 World Cup Winner Ulla Salzgeber.
Image copyrighted: Dirk Caremans - no reproduction allowed