2002-2003 KNHS/KWPN Stallion Competition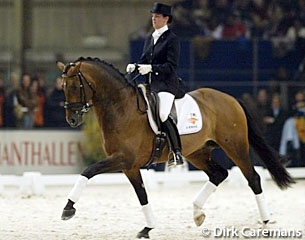 At the 2003 KWPN Stallion Licensing, the 2002-2003 NHS/KWPN Stallion Competition Finals were contested. In order to decide the winner of the Divoza Cup, four qualifier competitions took place
during the winter show season, and a special finals was organized during the Stallion Licensing in the Brabanthallen in 's Hertogenbosch, The Netherlands.
Winner of the Divoza Cup 2003 at First Level is Hilltop's Rousseau, ridden by Nicolet Van Lierop. With 254 points in total gathered at the qualifiers and a winner score of 86 points at the Finals, Rousseau (Ferro x Roemer) had a grand victory in Den Bosch with 340 points in total. Reserve champion at first level is Rhodium (Ferro x Ramiro) under Hans Peter Minderhout. With 240 points in the qualifier and 78 points in the finals, Rhodium had a total of 318,5 which put him second. Coby van Baalen's student Anke ter Beek became third aboard Riant, a Jazz x Julia Mariner xx offspring who was actually first trained by Marlies van Baalen, then by Delphine Meiresonne and then by Anky ter Beek. Ter Beek scored 79 points in the finals, making a better performance than Rhodium, but only had a total of 306 points overall which placed them third. Radar (Cocktail x Le Mexico) and Anke ter Beek were fourth, Redford (Krack C x Ferro) and Edward Gal came in fifth. Ro-Lex (Montecristo x Winckenburg) and Madeleine Vrees finished sixth overall.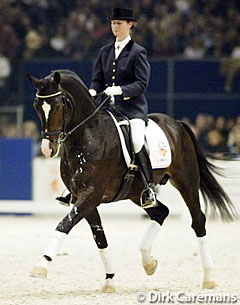 The finals for the Second level horses were only occupied by two horses. The duel was between Paddox (Ferro x Darwin) and Polansky (Kostolany x Donnerhall) and was won by Paddox. He scored 82 points in the final and had an overall score of 308,5 points, making him and his rider Marijke Folmer the 2003 Champions. Gerdine Maree and Polansky scored 73 points in the finals and had a total of 298 points.
Third/Fourth level was obviously won by Hans Peter Minderhoud aboard double World Champion Rubels (Rafurstinsels x Amethist). With 89 points in the finals and 577 overall, Rubels became the undisputed and undefeated winner of his class. Second place went to Kirsten Beckers aboard Broere Norway (Jazz x Ulft). Beckers scored 77 in the finals and totalled 480.5 points. Karen Nijvelt and Nero (Balzflug x Onyx) became third with 71 points in the finals and 461 points overall.
Photos © Dirk Caremans
Related Links
Rousseau, Paddox and Rubels Win Final Leg of 2002 Stallion Competition 
Hattrick for Hans Peter Minderhoud at Third Leg of 2002 Stallion Competition
Rousseau, Polansky and Rubels Win Second Leg of 2002 Stallion Competition