KWPN Breeding News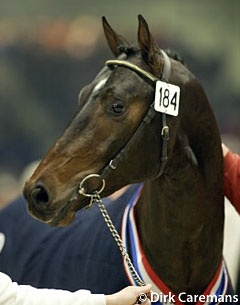 At the 2003 KWPN Stallion Licensing, the 3-year old youngster Tornado has been proclaimed Champion of the 2003 KWPN Licensing. Tornado is by Flemmingh out of Fariena (Ramiro x Uppercut xx) and was bred by H.P. Meerte from Noordlaren, The Netherlands.
Tornado, who was listed as number 2 in the catalogue was praised by selection committee member Jaap Werners for his conformation and good hind leg use. Owned by Stal de Craecken BV and J. Steunebrink, Tornado has been offered for sale previously, but with his recent approval it is doubtful that De Craecken horse dealers are going to sell this young star.
Reserve Champion of the licensing is the show jumper TR Ulisina. Bred by Stal Roelofs from Den Ham, The Netherlands, T Ulisina is by Mermus R out of Dulisina (Joost x Abgar xx x Wagner). Third pkace went to Triomf, a Krack C x Damiro x Troublemaker xx offspring, bred by J.M. Koopman and owned by Ad Valk.
Other licensed stallions are::
Typhoon S (Calvados out of Nobelle S by Libero H)
Breeder: Van Straaten from Den Ham, eigenaar
Owner: H.J. Nijhof and R. van de Mheen.
Troy (Negro out of Lieni keur by Glendale), fokker
Breeder: C. Klinkhamer from Graft, eigenaar
Owner: H. de Koning.
Treasure (Democraat out of Lavilana ster by Havidoff), fokker
Breeder: N. Augustinus from Ingen, eigenaar mevr. 
Owner: J.E. Reessink-Brouwer and H.C. Vonk.
Tango (Jazz out of O.Bertje keur by Contango), fokker
Breeder: H. van Helvoirt from Rosmalen, eigenaar
Owner: A. Valk and J.M. van Uytert.
Touch Dawn (Krack C out of Kalinja pref by Pion), fokker/eigenaar
Breeder/Owner: A.J. van Straalen from Leerdam and owner A. Valk.
Transformer (Elmshorn out of Virania pref prest by Rigoletto), fokker
Breeder: W. Boelens from Annen, eigenaar
Owner: R. Tewis and F. Stiekema.
Tygo (Numero Uno out of Domine ster by Purioso), fokker
Breeder: T. Kraan-Muskens from Hekendorp, eigenaar
Owner: E. Schep
Related Links