Dutch Dressage News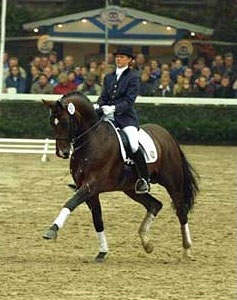 During the Open Day of the Warendorf State Farm both Marlies van Baalen and her mother Coby van Baalen were surprised by both being the unexecpted recipients of the German "Goldenes Reiterabzeichen".
This golden pin, often seen pinned on German riders' shadbellies, is bestowed upon any rider with a German competition licence (FN), who has accomplished ten victories at S level (Prix St Georges, Intermediaire I or II, or Grand Prix, at German or international competitions
Marlies van Baalen received the medal for her victories with stallions Laurentianer and Fidermark. Coby van Baalen, who knew that her daughter Marlies was going to receive the medal, did not expect herself to get it too. Culprit for this festivity was their mutual trainer Johann Hinnemann, who had arranged the decoration of the two Dutch riders. Coby was seduced into riding the stallion Ehrentanz at the Open Day and upon entering the ring, the announcer revealed that Coby was to receive the medal as well for her victories on Commodore, which took place ten years ago.
"Receiving the Goldenes Reiterabzeichen is something every German professional rider strives for," Hinnemann explains. He well remembers the day he received it. "Marlies is 22, I was 30 then, and has just become the Rhinish Champion with Duero. I only just opened my own stable," Hinnemann explained.
Related Links
Marlies van Baalen and Fidermark
The Future for Coby van Baalen