2002 CDI Frankfurt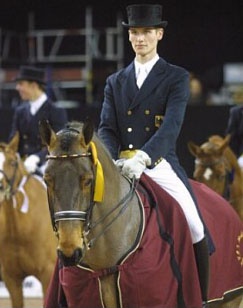 The 2002 Euro Future Cup showed a high level of competition, yet the finals they did not feature all of Europe's top young riders. The best German and Dutch young riders, Nicole Giesen and Joyce Heuitink, were not present at the finals in Frankfurt
, but this did not mean that the quality went downhill. On the contrary, it seems that new young riders are taking over the lead position in Europe, and, in particular, Jan Andreas Viebrock.
The winner of the 2002 Euro Future Cup, Jan Andreas Viebrock, was unbeatable in the finals. Scoring the highest in all three finals' tests, Viebrock and his 9-year old Hanoverian gelding Muchacho. With impressive marks of 72.91%, 72.37% and 77.48% (!!) in the freestyle, is currently scoring higher than Germany's national Young Riders' Champion Nicole Giesen. Muchacho is by Maurice x Wenzel I and has been Viebrock's steady Young Riders' mount for 2002. His other (!) young rider horses are Astolfi, Fiona Kildebo and Directeur, but it was Muchacho who offered Viebrock to win the gold team medal at the 2002 European Young Riders Championships in Italy.
Second overall was Benjamin Werndl on Achill. Residing in Aubenhausen, Germany, Werndl and his sister Jessice Werndl were already successful as FEI pony riders. Sponsored by their parents, both children were able to progress in the best way possible. Aboard the Oldenburg chestnut Achill (Argentinus x Weltglanz), Werndl made his jump into silver position thanks to his wonderful freestyle. Third place was for another German Young Rider, Nicholas Kroncke and Larso. This combination has been formed already in 1999 where it competed in the YR trials for the German team. Former European Pony Champion, Nicholas Kronke and his Holsteiner Larso (by Liostro x Calypso I) won the two first finals' tests, but finished third in the freestyle.
A huge achievement was made at the Euro Future Cup Finals by the Belgian Ruth van Campen. Breaking through the reign of Germany and Holland, Belgian Ruth van Campen comfortably settled on an overall fourth position, leaving hot shot young rider names behind her. Trained by Hermann Gossmeier, Ruth van Campen solidly scored in the upper 60% at the finals and rode a wonderful 70.53% kur to music. Her Hanoverian mare Capriccio (by Caprimond x Manstein) has been green broken by Van Campen herself. They are members of the Belgian Young Riders team for two years now.
The Euro Future Cup, sponsored by Waldfried Dressage stable, i.e. Manfred Louven, is a successful circuit for European Young Riders which runs at various CDI shows throughout Europe. The series is run in a similar manner to the World Cup series with a standings list for individual riders rankings and a finals held at the CDI Frankfurt, Germany. The six qualifiers took place in Aarhus (DEN), St Nizier (FRA), Abenhausen (GER), Brno (CZE), Hickstead (GBR) and Mesikon (SUI).
Image copyrighted: Escon Marketing / Dreczura
Related Links
Scores 2002 CDI Frankfurt
Nicole Giesen and Slow Fox V Win 2001 Euro Future Cup
Qualified Young Riders For 2001 Waldfried Euro Future Cup Final
Meet the 1999 German Junior Riders: Jan Andreas Viebrock and Astolfi