German Dressage News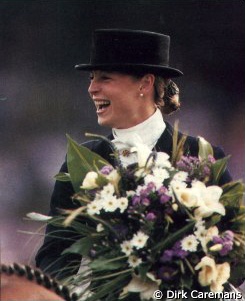 It's been only a year since former Olympic gold medallist Isabell Werth switched barns from Dr Uwe Schulten-Baumer to Madeleine Winter-Schulze, or she decided again to relocate in Germany.
This time she's going back to Rheinberg, her home town, to start her own training facility on the premises of her parents.
The construction of an indoor 20 x 60 arena and 20 new stalls has been approved and Werth wants to go independent from now on. Mr Werth, an avid breeder of dressage horses for many years, is ecstatic that daughter Isabell is turning back to her roots. By doing so, Werth is also ending the rumours that her trainer/sponsor Madeleine Winter-Schulze is being accused of nepotism in her role of committee member for the selection of the German Dressage teams.
More definite info on her move will follow soon
Source: Dressur Welt
Image copyrighted: Dirk Caremans
Related Links
Isabell Werth Fractured Shin Bone 
Gigolo Rejoined with Isabell Werth 
Horsemagazine: A Chat With Isabell Werth