2002 World Equestrian Games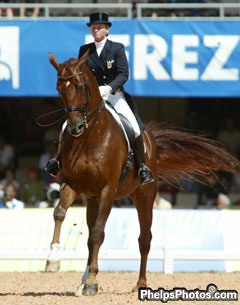 The excitement and controversy continues to pump through the veins of riders and spectators in the Chapin Center during the dressage phase of the 2002 World Equestrian Games in Jerez de la Frontera, Spain.
The American Debbie McDonald had the ride of a life time today, scoring 76.120%, and ranked second in the Grand Prix Special. McDonald rode a wonderfully expressive test with superb lateral movements, nicely jumped pirouettes and large tempi's. Brentina is such a lovely mare and is currently the only horse on the scene whose qualities can be compared to those of Rusty or Farbenfroh. Judge Volker Moritz estimated Brentina's performance the highest of them all and gave her 80.000%.
In the Special, McDonald only had to give way to home country favorite Beatriz Ferrer-Salat who scored 77.000% with her Hanoverian gelding Beauvalais and won the class. Beauvalais is a spectacular horse but sometimes comes too deep and too tight in the neck. Above all, had Brentina not stumbled in the extended trot, which made her break into canter, McDonald would definitely have won the class and maybe even lead in the provisional classification.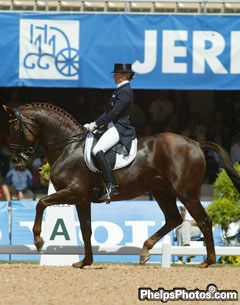 Germany was abdicated today when both Nadine Capellmann and Ulla Salzgeber were pushed into third and fifth position by outsiders Ferrer-Salat, McDonald and Wilcox. Lisa Wilcox had again two small bobbles in her otherwise gorgeous test aboard Relevant. Right before the canter half pass, her Oldenburg stallion misinterpreted a half halt for a halt and on the centerline Wilcox, having yesterday's mistake on her mind, could not relax Relevant for his final tense piaffe. "He's so extravagant in his movements and sometimes overdoes the piaffe," Wilcox explained. She scored 75.680% and ranked fourth.
So, what happened to Germany? Well, Farbenfroh made a mistake in his flying changes, probably because he lost impulsion. Riding at the hottest moment of the day, Capellmann had to deal with a tired Farbenfroh, yet she still made him show the most divine, supple exercises. With 75.880% and a third place, Capellmann is still leading the individual classification.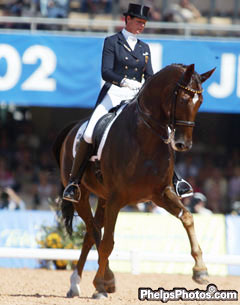 Ulla Salzgeber had to deal with the same problem as Capellmann, a mistake in the flying changes on exactly the same spot on the diagonal. Nevertheless, Salzgeber received 74.120% and Rusty was the lightest and sharpest on the aids.
The grand finale, the kur to music, is Sunday evening September 15, 2002, at the Chapin Center and promises to be most exciting one in history. Germany has always been able to cope with a setback during a competition, but will the country's proficiency and horsemanship reign again this time? Debbie McDonald can be the first American rider to win an individual medal, and it might even be a gold one. "I told you we would be kicking at the door, and not knocking," Brentina's owner Jane Thomas commented after McDonald's ride.
By Astrid Appels for Dressagedaily.com
Provisional Individual Classification 
Rider - Horse - Grand Prix - Grand Prix Special - % GP + GPS 
1. Nadine Capellmann - Farbenfroh - 77.960 (1) - 75.880 (3) - 153.840 
2. Beatriz Ferrer Salat - Beauvalais - 74.560 (4) - 77.000 (1) - 151.560 
3. Debbie McDonald - Brentina - 74.640 (3) - 76.120 (2) - 150.760 
4. Lisa Wilcox - Relevant - 74.200 (5) - 75.680 (4) - 149.880 
5. Ulla Salzgeber - Rusty - 75.640 (2) - 74.120 (5) - 149.760