2002 World Equestrian Games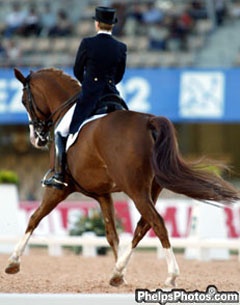 What a sensational day of Grand Prix dressage at the Chapin center in Jerez de la Frontera for the 2002 World Equestrian Games. Thirty-three riders that constituted the first group for the Grand Prix test, entered the main arena on the symbolical day of September 11, 2002, and produced some astonishing rides. Images of peace, harmony and balance dominated over electric, nervous riding and the jduges produced a remarkable provisional individual ranking that raised high hopes for the team championship competition.
In the lead with 77.960% are Nadine Capellmann and her fabulous Farbenfroh. Their ride was soft, floating, rhythmical, sweet but still powerful and strong. Farbenfroh, a Westfalian gelding by Freudentanzer, was sharp on the aids all the time, made fluent transitions, impressed in the piaffe-passage tour and showed wonderfully large light feeted extensions. Their number one score for today honored their performance and was a virtual tribute to classical dressage in which happy horses are a main issue.
Linsenhoff's Apex Sooner than Expected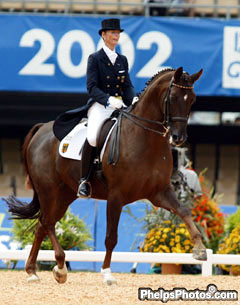 Capellmann's team mate Ann Kathrin Linsenhoff received 70.320% from the panel of judges and finished 7th. Linsenhoff's test was not flawless but showed the incredible potential the 18 hands high Renoir Unicef has. "He was very much impressed by the arena," Ann Kathrin commented afterwards. The combination was the first German pair to enter the ring and rode a conservative ride. "You do not know how you have to present your horse when you have to go as first team member," she said. "I rode very carefully. You also have to follow a bit what your horse is doing in the ring."
Linsenhoff did not expect to compete in Jerez and her liver chestnut Renoir has only been trained at Grand Prix level for a short two year. "My big goal was in fact Athens [Olympic Games 2004] but that we have already made it is very special. Everything went so much faster than expected," Linsenhoff confessed. Additional pressure was on the rider's shoulders because two weeks previous to the WEG, she got involved in a doping issue. Renoir Unicef was supposedly tested positive in Mannheim but the retest turned out to be negative. "It definitely added pressure," she said, "but my husband fenced me off from everything so that I could continue training my horse."
Brilliant Brentina Brings Hope For the U.S.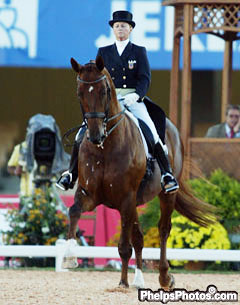 The United States of America took personal "sportive" revenge at September 11, 2001, by blasting away all competition today in the Chapin center.
Two American riders entered the arena and both ranked in the top five, venging the 9/11-jinx. Debbie McDonald scored a phenomenal 74.640% aboard her brilliant Brentina and finished second. Her ride with Perry Thomas' chestnut Hanoverian mare was sensational. Although she labelled her test as "conservative", it made a definite impression on every spectator. Fluent transitions, sharp on the letter, a harmonious conversation between rider and horse. As usual, Brentina thrilled with her half passes and eye catching piaffe-passage transitions.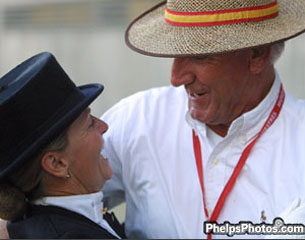 At the press conference after the test, McDonald was extatic. "I have only dreamt of sitting here," she said. Debbie had felt this good ride coming up. "Yesterday I only rode her for 15 minutes because she felt incredible." Yesterday's gut feeling was a good indicator for today. "When I picked up the trot, I knew she was right with me and she stayed that way the whole test."
Although Chef d'Equipe Jessica Ransehousen attributes the wonderful performance of today to the extraordinary loving bond between Debbie and Brentina, it is more likely that team trainer Klaus Balkenhol made the decisive contribution for the USET's winning improvement. "Klaus has been incredible," McDonald noted. "He's so sensitive, doesn't overwork the horses and has created a great environment to be in." McDonald is certainly pleased that Balkenhol lets her do her own thing for a while, and only then steps in with some additional comments and suggestions.
Blinks Stretches Her Limits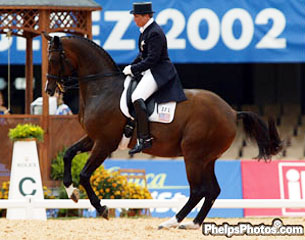 Fellow team member Sue Blinks almost equalled McDonald's top of the bill performance and temporarily lead the field during the morning session with her 72.240% ride. Blinks and Flim Flam, a Hanoverian gelding by Wilhelm Tell, was the first horse to run a flawless test and raise hopes for the American team to win the silver medal. At the end of the day, the United States Dressage Team came a mere three points short to take first place in the team ranking. Never before has America been so sure of a team silver medal at a World Championships and never before has the country been such a threat to the undefeatable "golden" Germany. The race between countries has made blood pressure rise for tomorrow's second part of the Grand Prix, as gold for the USA is within reach if Germany makes only one small mistake.
Hot Beauvalais Warms Hearts of Home Crowd
The third place in the provisional ranking for today went to Spanish rider Beatriz Ferrer/Salat. With 74.560% she dazzled her home crowd but still had hoped for more in order for Spain to win silver. "We are not going to win silver," she admitted. "To win a medal is still highly possible but there are five teams running for three medals and Germany is probably going to win gold and America silver." Aboard her Hanoverian Beauvalais she rode an expressive test even though her horse was extremely tensed. "He listened to me and concentrated on me. He's a very complicated horse but he's briliant."
Ferro and Weyden Did Not Highlight for Silver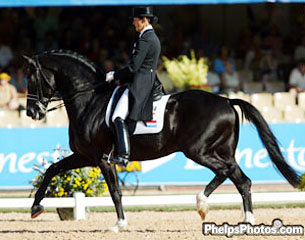 The battle for bronze is now on between Spain, Denmark and The Netherlands. On the fourth spot was the Dutch Coby van Baalen with her stallion Olympic Ferro. Her score of 72.520% was the first to beat Blinks from her number one spot in the second half of today's Grand Prix.
Olympic Ferro was sharp on the aids but gave a nervous, unharmonious impression. Even though his trot work has slightly improved and looks less passagelike all the time, he has not warmed my heart. His piaffe and passage are delightful. They show great suspension and a hindquarters that slide underneath the body while doing the collected movements, but Van Baalen's aids are constantly visible and there is never a steady, light contact but repetitively a short yanking at the reins while her legs swing to keep him going. Ferro made only one major mistake in his test by changing lead before his right canter pirouette.
The other Dutch rider for the day, Gonnelien Rothenberger, had a dull ride on her husband's stallion Jonggor's Weyden. All the extensions were mediocre and the combinations never excelled in any exercise. Furthermore, Rothenberger has this tedious tic of laying in the saddle instead of sitting straight. Even though the total image is one of peace, the combination was today just not good enough to contribute points for a Dutch silver medal. The score of 68.200% and a tenth place were a generous donation from the judges.
Horses to Remember: FBW Kennedy and Stirling Stilton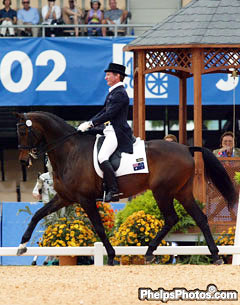 Similar to Coby van Baalen's electric riding style is the one of Lone Jorgenssen but the Danish rider is more controlled and more subtle in her aids. FBW Kennedy is a super horse with memorable trot half passes. He made no major mistakes and stayed up in the frame throughout the test.
A thrilling pair that presented itself in the ring today were Heath Ryan and GV Stirling Stilton. Quite unknown to the European crowd, the Australian Ryan got almost the best out of his dark bay gelding. Stilton has a divine trot, but needs more opening of the frame in canter. Stilton's extended trot was an eye catcher as well as the second piaffe-passage part in the test. Ryan probably lost most of his point in the canter part, but was, nevertheless, a bit underscored. The 64.960% could well have been a nice 66 or 67%.
The second group for the Grand Prix test will present itself in the morning of September 12, 2002, at the Chapin center. Klaus Husenbeth and Ulla Salzgeber need to confirm the excellent performances that had shown at the 2002 CDI Aachen, while the American team with Wilcox and Seidel still to go, now has to chance to claim the gold or confirm silver. 
Text by Astrid Appels
Photos © Mary Phelps - Phelpsphotos.com