2002 World Equestrian Games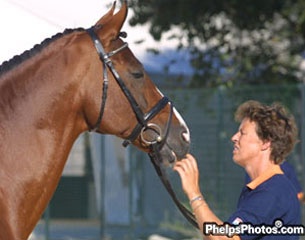 Dutch dressage team member Ellen Bontje has definitely run out of luck. Only two weeks after the news that her equine partner of many years, Gestion Silvano N, had been sold to Paul Schockemohle
, Bontje's Holsteiner gelding did not pass the vet check at the first day of the 2002 World Equestrian Games.
Opening day of the 2002 World Equestrian Games kicked off under a brilliant Spanish sun-filled sky with air that heated up to sizzling temperatures. The vet inspection for the dressage horses started at 10 AM in the morning and was the first official event that made part of the WEG. Anna Merveldt-Steffens of the Irish team was the first to present her chestnut Fosbury to the panel of judges and passed easily. The jog, which took two hours in total, ran smoothly with no incidents besides a few frisky, bucking and rearing horses. Four horses in total were held for re-inspection but only one did not make the test.
The merciless "not passed" was surprisingly called for Gestion Silvano N, the Holsteiner licensed stallion ridden by Dutch Ellen Bontje. Even though the horse showed a tender trot during the jog, he was definitely not the most irregular one of the pack. A few horses still seemed stiff and sore from the long trip to Spain -- the Canadian horses had to stay an extra 9 hours on the plane because the horses of the American Driving team had problems with their transportation papers - but none of them showed real lameness problems. Yet, it can not be denied that Silvano N was not irregular.
The harsh judgment of the judges, ending not only Ellen Bontje's WEG dream, but also her last competition with this horse, and probably the chance for the Dutch team to win the silver team medal, felt like an electroconvulsion shock. Dutch chef d'equipe Ghislain Fourage, the team vet, and other Dutch officials immediately started lobbying and pleading for Silvano's case. For a while, the rumour was spread that Silvano N would receive the chance to be re-inspected the next day at 8 AM, but that was a pipe dream for Bontje. The new FEI rule, issued in 2002, says that the call by the judges at the day of the vet check is binding and that horses no longer receive a second chance by being reinspected the next day. Consequently, Bontje is out of the Dutch team and her position will be filled in by reserve rider Tineke Bartels whose Broere Jazz (KWPN, by Cocktail) did pass.