2002 World Equestrian Games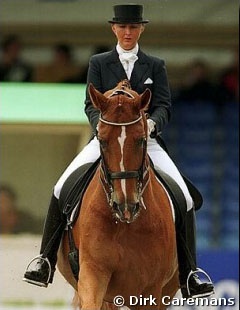 Our friends from Horsemagazine reported the following unfortunate news. A veterinary issue with her horse Rosemount Wallstreet has forced Kristy Oatley-Nist to withdraw from participation at the World Equestrian Games
and to plan for her return to international competition later this year.
The withdrawal has opened the way for Heath Ryan and GV Stirling Stilton to move from reserve position into the Team.
The team going to Jerez later this week will now consist of the following riders and horses: Mary Hanna and Limbo, Ricky MacMillan and Crisp, Rachael Sanna and Yardley Aphrodit,e Heath Ryan and GV Stirling Stilton
Horsemagazine also was notified by a small incident Among the Australian horse on the plane to Jerez: "Australian dressage squad horse, Aphrodite was injured in Sydney getting loaded on the plane to Europe, when the horse sharing the pallet with her, and Stirling Stilton went crazy. Abby's eye was cut quite badly and the other horse was removed, leaving a nice big pallet for Abby and Stilts to share, and the IHB vet on the flight did a lovely job stitching up the cut. It is hoped that no real damage has been done and that Abby and Rachael can continue their campaign to Jerez."
Related Links
Horsemagazine.com 
Australian Dressage Team for 2002 World Equestrian Games Selected
Back to the 2002 WEG index