2002 World Equestrian Games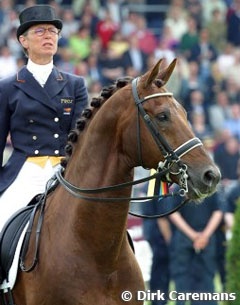 After the final Dutch WEG selection trial in Kootwijk, The Netherlands, chef d'equipe Ghislain Fourage announced the official Dutch Dressage team for the 2002 World Equestrian Games.
Already certain about a team place were Ellen Bontje with Gestion Silvano N and Coby van Baalen with Olympic Ferro. Gonnelien Rothenberger with Jonggor's Weyden and Anky van Grunsven with Gestion Krack C have been added to the team after Kootwijk. The reserve combination is Tineke Bartels with Broere Jazz.
A large crowd came to see the last trials. It has been many years since the strength of the Dutch Dressage team has been openly questioned. With Gestion Bonfire leaving the team after the 2000 Olympic Games and Gestion Goliath being out of shape and no longer vying for a WEG spot, the Dutch were for a moment in despair and saw their "future" WEG silver medal far out of reach.
However, the Kootwijk trials should have proven that The Netherlands are ready for the World Equestrian Games, and with an unprecedented team that consists of four licensed breeding stallions, Holland hopes to defend its silver position in the dressage world.
Results Kootwijk Selection Trials
1. Ellen Bontje - Gestion Silvano N 74,84% 
2. Coby van Baalen - Ferro 74,48% 
3. Anky van Grunsven - Gestion Krack C 73,04% 
4. Tineke Bartels - Broere Jazz 72,32% 
5. Anky van Grunsven - Gestion Salinero 72,00% 
6. Gonnelien Rothenberger - Jonggor`s Weyden 71,00 
7. Sonja Gademann - Gestion Jup 68,92%