2002 World Cup Finals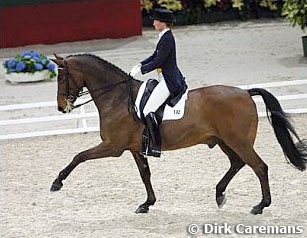 Seventh placed in the Western European League of the 2001/2002 World Cup Dressage Finals and 9th in the Finals at the CDI 's Hertogenbosch, the Netherlands, March 21 - 24, 2002, was Gina Capellmann-Lutkemeier with Amando.
Elder sister to the famous German dressage star Nadine Capellmann, Gina is no newcomer to the World Cup scene. In 1993 and 1996, the 41-year old Grand Prix rider participated and qualified for the World Cup Dressage Finals and finished fourth and fifth. In the 1980s, Gina was multime participant at the German national Dressage Championships and in 1986 she won team gold at the World Championships in Cedar Valley, Canada and team gold at the 1987 European Dressage Championships in Goodwood, England.
Finally back on the scene, Gina Capellmann-Lutkemeier thanks all her successes to her new star, Amando. The 12-year old Swedish warmblood (by Flyinge Amiral x Indus) is bred by Susanne Hall. The bay gelding offered Capellmann a third place this year in the CDI-W Berlin, and two fourth places at the CDI-W Mechelen and Paris.
Related Links
Scores of the 2002 World Cup Dressage Final
Ulla Salzgeber Prolongs World Cup Title at 2002 World Cup Finals