Irish Dressage News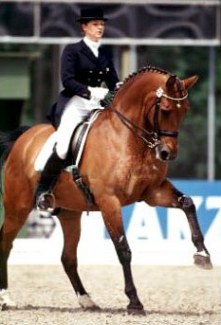 Senior Irish International rider, Anna Merveldt-Steffens is the winner of the prestigious "Irish Field" Dressage Rider of the Year award for the second year in a row.
Despite only one international outing in the first six months of 2001 due to the foot and mouth restrictions, when placing seventh in the Grand Prix Speciale at the Munich CDI** last May, Anna Merveldt-Steffens put in a top class performance to qualify for the individual final at the European Dressage Championships in Verden,Germany. Riding the hannovarian gelding Darius she easily qualified for the Grand Prix Speciale from a field of fifty starters on the opening day. With only fifteen places on offer for the Grand Prix Kur (individual Final) on the last day of the championships Anna maintained her good form to qualify and go on to place fourteenth in the final individual classification. This was the best performance by an Irish rider at a championships since she herself placed sixth in the World Equestrian Games eight years ago.
With Darius out of action later in the year Anna brought out her trainer Johann Hinnemann's westphalian gelding Fosbury and what a memorable debut it turned out to be. Having placed fourth in the Grand Prix on the opening day of the Stadl Paura CDI*** in Austria last November they saved their best for the final day when Fosbury produced a stunning test in his first Grand Prix Speciale to place second. A top ten finish at the Oldenburg CDI*** a fortnight later followed by a third place finish in the Speciale at Munich Indoors in December rounded off a good year for the Irish rider confirmed by her return to the top fifty in the FEI/BCM World Dressage Rankings. Anna has qualified to represent Ireland at the World Equestrian Games in Spain next September.
Related Link
Anna Merveldt-Steffens wins Irish Dressage Rider of the Year Award 2000